Field Hockey Wins Back-to-Back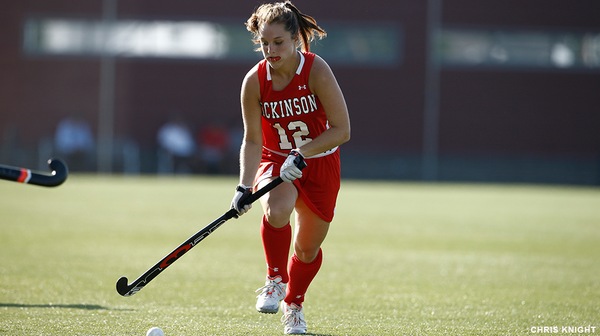 The Dickinson field hockey team ended the regular season on a high note with two back-to-back wins this past week. The Red Devil's faced McDaniel and Gettysburg just two days apart and were able to play strong on both occasions.
McDaniel traveled to Dickinson Wednesday, October 25 for the Red Devils' final home game of the season. The Red Devils came out of warm up strong. Chelsea Kramer '19 scored three goals in the first half with the last coming with fifteen minutes still to play. Her first was unassisted, coming just a few minutes into the game, while her last two were finishes of assists from from Jillian Beemon '20 and Alex Bonser '18.
With the excitement of being up three without McDaniel being on the board, the Red Devil's continued their momentum and scored three more before ending the first half at a score of 6-0 as Amber Dey '18 scored two unassisted goals and Kim Monteferante '18 tallied the first half's last score, assisted by Dey and Kayla Bendinelli '19.
The women did not have a decrease in teamwork or excitement going into the second half. In the time left they scored three more goals to bring the game's final score of 9-0. After increasing their record to 9-7 overall and 4-5 in the Centennial Conference the Red Devils looked forward to Gettysburg on Friday, October 27th.
Dickinson played a tough game from start to finish. Each score was matched on the other side, keeping the score jumping in small increments, ending the first half 1-1 and the second half 2-2, taking the game to go into overtime. Dey and Maddie Dombroski '21 tallied the Red Devils' two regulation goals.
Using everything they had left the team entered into overtime with their minds set on winning. Bonser took advantage of the momentum from her team and scored the winning shot in overtime.
With this victory, the Red Devils finished their regular season with a 10-7 overall record and a 5-5 record in the Centennial Conference.