Men's Soccer Downs Hopkins in CC First Round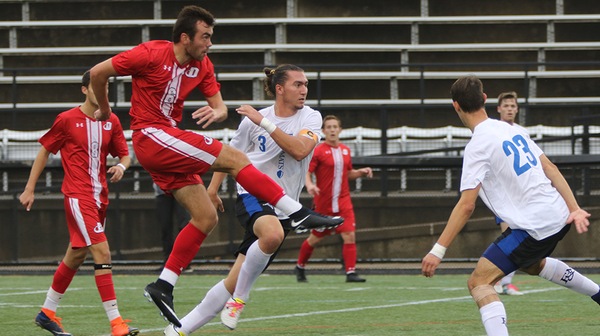 Hang on for a minute...we're trying to find some more stories you might like.
The No. 5-seeded Dickinson men's soccer team advanced to the Centennial Conference Championship, knocking off No. 1 seed and No. 14-ranked Johns Hopkins University on Friday night, Nov. 3 before falling to Franklin and Marshall on Sunday, Nov. 5, 1-0 in the Championship game.
The Red Devils played Hopkins to a 2-2 tie before going scoreless through two overtimes and advancing via penalty kicks (4-2).
Dickinson got on the board first as Kevin Gilbert '20 scored unassisted in the 11th minute. The Blue Jays countered to tie the match less than two minutes later as Liam Moylan found the net with help from RJ Moore and Jonah Muntz.
Hopkins took a 2-1 lead on a successful penalty kick by Mike Swiercz, just 2:30 into the second half.
The Red Devils pulled even in the 74th minute as Austen Stockdale '21 scored right after coming on to the pitch with help from Ward Van de Water '19 and Matt Edmonds '18.
The match went into penalty kicks after neither team managed to score through the rest of the second half and two overtimes.
The Red Devils got off to a good start as Frederick Meagher '20 prevented the Blue Jays from scoring on their first two attempts while Dickinson was on the mark as classmates Will Bracken '18 and Austin Thames '18 both proved successful in their attempts and gave Dickinson a 2-0 lead.
Lucas Masiado '18 scored, sandwiched between two Hopkins goals, before Edmonds sealed the match for the Red Devils with a ball in the bottom right corner of the net.
Hopkins ended the match with an edge in 16-15 shots and a 4-3 advantage in corner kicks.
Xander Lefevre and Bryan See combined for five saves for Hopkins while John Baney '21 tallied three saves for the Red Devils.
The Championship match went scoreless well into the second period until the Diplomats broke the stalemate in the 65th minute with an unassisted goal by Zach Colton. F&M was able to hold out until the end of regulation for the final of 1-0 and the Centennial Conference Championship.
Meagher made five saves on six shots for the Red Devils while Christopher Amoruso made seven for the Diplomats on the afternoon.
The Red Devils have earned a bid in the NCAA tournament and will face Emory University on Saturday, November 11 in Lynchburg Virginia.