Squash Splits Matches With UVA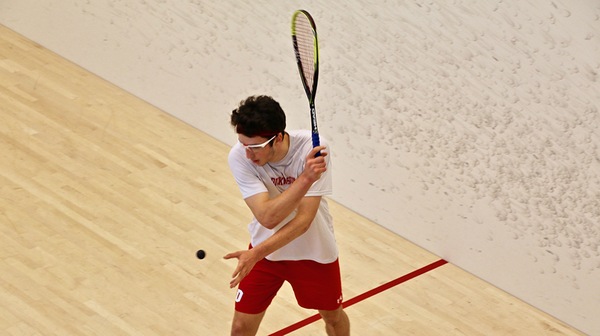 Hang on for a minute...we're trying to find some more stories you might like.
The No. 22-ranked Dickinson men's squash team opened the season with an unprecedented 8-2 victory over No. 17-ranked University of Virginia on Saturday afternoon, November 4 at the Kline Center.
The Red Devils won in straight sets in the first two flights as Abdelrahman Elsergany '19 claimed the number first, (11-3, 11-5, 11-3), while Finn Trimble '21 went (11-3, 11-5, 11-6) to win the second.
Hal Holappa '19 and Alex Wattles '20 won their flights by tallies of 3-1 in the fifth and sixth, and Andrew Strudwick and Tanay Murdia also earned 3-1 victories in the number nine and 10 flights, respectively.
Vincent Warzecha '19 started his flight with a narrow 12-10 victory and went on to take the eighth (12-10, 11-5, 11-6).
The No. 23-ranked women's team opened their season with a 9-1 loss to the Cavaliers on Saturday afternoon.
Hedvika Suchankova '19 won the top flight against Tara Arya after losing the first round and battling back to win a 3-1 decision (4-11, 11-8, 11-8, 11-4).
The Cavaliers won all of the following flights in straight sets. Domenica Romo '19 put up a good fight in the second flight but ended up with a loss (11-9, 11-6, 11-4) while Eloise Nimoityn '21, Jaime-Leigh Edghill '20, Nicole DeLuca '19 and Aya Sobhy '21 all put up solid performances in their respective flights. Meagan Dashcund '18 lost (11-6, 11-8, 11-5) in the 10th flight.
The Red Devil men start 1-0 while the women start the season off at 0-1. Both squads will travel to Drexel University this weekend for the Inaugural Pennsylvania  State Championships. They will face the Dragons on Saturday, November 11 at 11:30 a.m. They will then go on to face either Franklin & Marshall or the Quakers of the  University of Pennsylvania at 2:30 p.m. Pairings will be determined based on the outcome of the day's first two matches.