Women's Swimming Beats LVC, Wilkes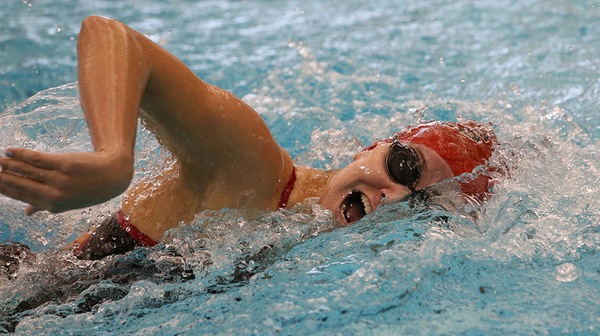 Heading into Lebanon Valley on Sunday, November 5, the Red Devil women's swim team looked to rebound from a 134-66 loss to Ursinus College in their first meet of the season on Saturday, October 28. The Red Devils faced a tri-meet in a short course meters pool against Lebanon Valley College and Wilkes University. The venue was different than their typical practice pool, but they used the opportunity to their advantage and pulled out a victory.
The Red Devils began the meet strong. The first event was the 200 medley relay and the A team from Dickinson was able to earn the victory. A team made up of Devon Korhammer '17, Hannah Griffith '21, Molly Sternick '20 and Sammy Holden '18 were not going to back down from the challenge.  From the moment the race began the Red Devils were in the lead, and they maintained it to the end putting the Red Devils high on the board right out of the gates.
With the excitement of this race in all of the women, they brought the same drive to each event that they swam afterwards. Sternick took advantage of the momentum and won both of her individual events the 50 freestyle and the 100 backstroke while Demetria Ruhl '20 placed first in the 200 freestyle and the 100 butterfly.  Dickinson didn't let up one bit throughout the meet, as they went on to top Lebanon Valley College 110-85 and beat Wilkes University 111-57.
Dickinson's record improves to 2-1 overall on the season. The Red Devils face back-to-back meets this weekend. They will host Bryn Mawr at home on Friday, November 10 at 6 p.m. for their first home meet and The University of Scranton on Saturday, November 11 at 1 p.m.