Men's Swim Beats Scranton at Home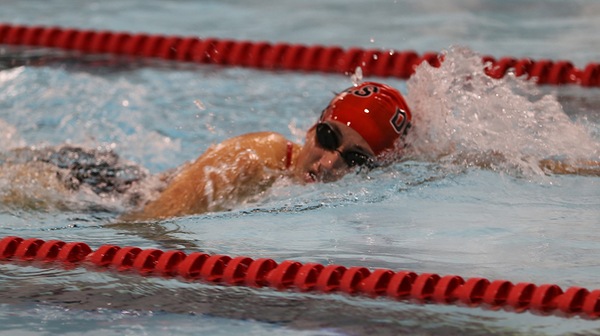 The Dickinson College men's swim team hosted their home opener this past weekend and began the season of home meets with a win over the Royals of the University of Scranton on Nov. 11 at 1 p.m. at the Kline Center.
The Red Devils started off the meet strong by capturing a win in the 200 medley relay by a slim margin of .13 seconds. The relay consisted of Colin Shea '21 Nicholas Beard '18, Tyler Catania '21, and Will Freeman '20. This win started the men off with a 13-4 lead as another team of Dickinson athletes grabbed third behind the Royals.
After seeing their teammates compete and achieve victory in the relay many of the men were excited and ready to race. Freeman was able to capture three wins throughout the day, adding the 200 Individual Medley and the 200 breaststroke to the medley relay.
Following right behind him in number of wins was Mitch Reynolds '18, who took first in both distance events, the 500 and the 1000 freestyle. Shea also had two wins, adding the 100 freestyle on top of the relay that began the meet.
Throughout the entirety of the meet the Red Devil's were on top, keeping the score in their favor after every event. Catania won the 200 fly, Graham Novitch '20 took the 200 freestyle, and Allen Belo, Senior, captured the 50 freestyle rounding out the event winners for the day.
The Red Devils pushed hard through every event and finished the meet with a final score of 126-79 against the Royals, improving their record to 3-1. The men now look forward to Saturday, Nov. 18 as they will host Bloomsburg University at the Kline Center at 1 p.m.