Women's Swim Tops Bryn Mawr, Falls to Scranton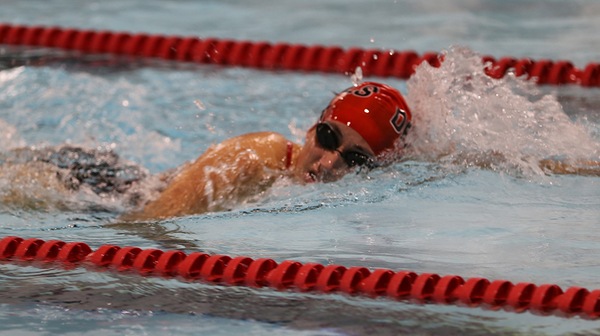 The Dickinson College women's swim team faced a difficult weekend featuring back to back meets, but they swam strong and put up an excellent showing at both. The Red Devils hosted their first home meet of the season Friday, Nov. 9 at 6 p.m.against Bryn Mawr College.
With a large reserve of energy from a strong week of training, the women began the meet with a win in the 200 medley relay by a margin of 18 seconds, setting the tone of the rest of the meet. The relay consisted of Devon Korhammer '18, Hannah Griffith '21, Molly Sternick '20 and anchored by Sammy Holden '18.
The excitement from this win was felt throughout the team and brought into every swim. Sternick used this momentum and won both of her other events she competed in throughout the night. She was able to post wins in the 100 butterfly and 50 freestyle competitions, just edging out a Bryn Mawr swimmer by .01 seconds. She tallied three wins in total.
Demetria Ruhl '20 was able to earn three victories of her own. She placed first in both distance events, the 1000 and the 500 freestyle as well as in the 200 freestyle relay to end the meet. Madison Littlepage '21 followed right behind Ruhl in both distance events. Speaking about having to compete in both distance events Littlepage commented that, "Although we have to swim difficult events, we always have our teammates backing us up."
With the comradery high from the women's team as well as the men's team, who was there to support them, there were many other event winners. Shannon Bonner '19 took the 200 freestyle and Griffith won the 100 breaststroke.  The women were able to secure a win with a final score of 123-82.
Dickinson rode in on the momentum from the previous meet Saturday's competition began against the University of Scranton at the Kline Center.
The medley relay again started the meet off with a win thanks to the efforts of Korhammer, Griffith, Sternick, and Holden. Sternick was able to bring in three wins against Scranton as well in the medley relay and the 50 and 100 free. This amounted to a total of six wins over the course of two days, leading Sternick to be honored as a Centenial Conference swimmer of the week. Alongside Sternick, Ruhl took the 100 fly and the 1000 free followed closely by Littlepage.
Overall the Red Devils fought as hard as they could against the Royals but unfortunately lost with a final score of 85-120. The Red Devils will host Bloomsburg University this Saturday, Nov. 18 at 1 p.m. at the Kline Center.