Women's Swimming Suffers Defeat at Washington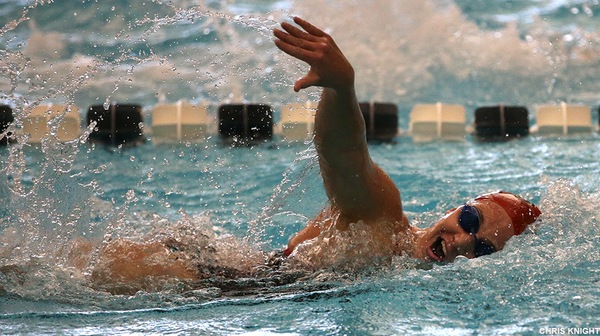 On Saturday, Jan. 27 the Women's Swim Team competed in their second meet of 2018 at Washington College at 2:00 p.m. The day before the meet, the Red Devils were finally able to return to their home pool after two weeks of practicing at other area pools, such as Messiah College and Cumberland Valley High School, due to a problem with the heating system. With the feeling of relief being back and team unity the pool brought, the women were ready to race.
They began the meet at Washington with an exciting win in the 400 medley relay. Katie Schmidt '19, Hannah Griffith, '21 Mollie Sternick '20 and Sammy Holden '18 were able to beat the Shorewomen by one tenth of a second. This race to the finish inspired determination and enthusiasm in the rest of the team who were ready to try and keep the meet propelling ahead with the same momentum.
Olivia Lyman '19 and Maddie Littlepage '21 continued the Red Devils' success, coming in second and third respectively in the 1000 freestyle directly following the relay.
The team struggled for a few events to secure first place finishes but they continued to finish strong and compete at every turn.
Demetria Ruhl '20 was able to stop the skid and secure a landslide win in the 200 butterfly, followed by Schmidt who won the 200 backstroke.
As the meet neared its end with just a few events left, Lyman took second in the 500 freestyle on a technicality by the officials. When touching the wall to finish the race she did not hit the pad for the automatic timing system, handing her an incorrect time. The final decision was left in the hands of the officials who declared the Washington College swimmer the winner.
Griffith followed up with a second-place finish in the 200 breaststroke alongside Holden, Sammy Boswell '19 Lyman, and Shannon Bonner '18 who finished second in the final 400 freestyle relay.
Even with strong swims in the pool and high morale outside, the Red Devils were unfortunately unable to secure a win against the Shorewomen, falling by a final tally of 113-92.
This loss dropped the team's Centennial Conference record to 2-2 and their overall record to 5-4. They will be back in action on Saturday, Feb. 3 at 1:00 p.m. as they take on the Diplomats of Franklin and Marshall, hoping to secure an important conference victory.