Lesher Makes History Against McDaniel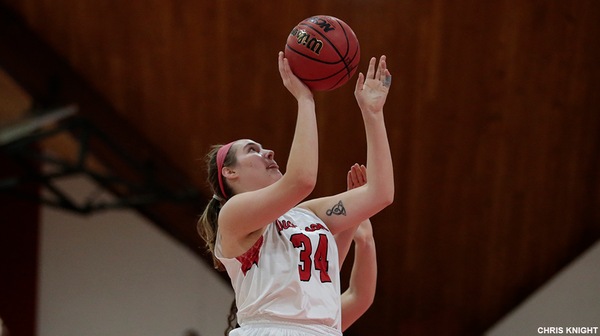 Hang on for a minute...we're trying to find some more stories you might like.
It was a successful and momentous week for Dickinson women's basketball. The Red Devils won both of their games and center Kassidy Lesher '18 put her name in the history books. On Wednesday, Jan. 31, the Dickinson held off the McDaniel Green Terror for a 56-53 win, and on Saturday, Feb. 3, the Red Devils unleashed their fury and beat winless Bryn Mawr 61-30.
The Red Devils were on fire from the outset against McDaniel with a 10-2 start, finishing the quarter with a 21-10 lead.  Lesher succeeded in becoming the second player in program history to record over 900 career rebounds, overtaking recent Hall of Fame inductee Ally Teatom Fullmer '07 for second all-time with 909.
McDaniel came out stronger than the Red Devils in the second quarter, holding Dickinson to only five points. The score at the half was 26-21 in favor of the Red Devils.
Lesher and Dickinson were a force to be reckoned with after halftime, increasing their lead to 45-29. Lizzie Becker '20 hit a clutch three pointer to give the Red Devils a commanding lead.
McDaniel didn't give up easily though. As the fourth quarter came down to the wire, McDaniel made a large comeback tying the game at 50 a piece with just over two minutes left in regulation.
Hannah Heiring '20, who averages 10.2 points a game, made a couple of free throws, sealing the win for the Red Devils, 56-53.
The Red Devils' dominating performance against Bryn Mawr on Saturday kept their playoff hopes alive.
The Red Devils started off hot with a 6-0 run and finished the first quarter leading 21-5. Bryn Mawr performed much better in the second quarter but still trailed the Red Devils by 14 going into halftime.
Dickinson wasn't done, exploiting Bryn Mawr's defense in the third quarter and had another demanding lead heading into the fourth quarter.
Through strong play and good defense, the Red Devils came away victorious with a 61-30.
Lauren McBride '20 led the Devils with 14 points, going 6-8 from the court. Halle Maeda '21 and Heiring also contributed double digit numbers in the big win.
Lizzie Becker '20 chipped in from both sides of the ball by dishing out five assists, grabbing four rebounds, and scoring seven points.
The Red Devils, who advance their record to 8-8 in Centennial Conference play, return home to face their rivals, the Ursinus College Bears, on Saturday afternoon, Feb. 10, at 8 pm.