Men's Basketball Splits Centennial Matchups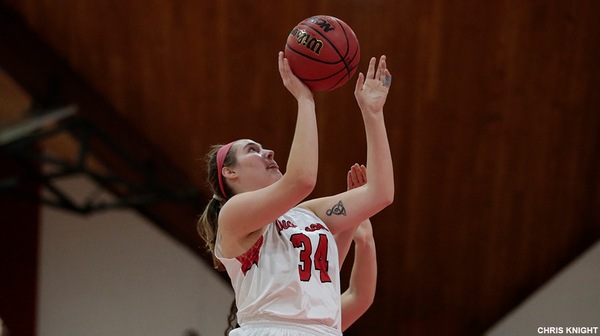 Hang on for a minute...we're trying to find some more stories you might like.
The Dickinson men's basketball earned 58-47 win on the road at McDaniel College on Wednesday night, Jan. 31, before falling to John's Hopkins, 62-52, in Baltimore on Saturday afternoon, Feb. 3.
The Red Devils took an early 12-0 lead in the opening minutes against McDaniel. The Green Terror finally put points on the board midway though the first period but still found themselves in a hole at the half as Dickinson took a 30-18 lead into the half. Leading the way for the Red Devils in the first half were classmates Justus Melton '18 (10 points and five rebounds) and Moses Romocki '18 (six points and six rebounds).
Melton, Romocki and Bryce Allen '20 kept up the scoring for the Red Devils coming out of the half, building Dickinson's lead to 38-20. They led by as many as 21 points, and McDaniel was unable to catch back up despite a late run.
Melton ended the game with 18 points to go along with nine rebounds while Romocki scored 13 points and tallied three steals. Allen put up 12 points while Mike Hinckley '19 racked up nine points and grabbed six rebounds in addition to handing out three assists.
The Red Devils got out to an early 7-2 lead against Hopkins, but the Blue Jays tied the game midway through the first half. Hopkins went on a 11-0 run later in the half before Chris McNeal '18 ended the scoring streak by sinking three free-throws. Allen and Hinckley scored as well to bring the score to 30-24 at halftime. The Blue Jays came out of the break running and gunning as they built up a 42-26 lead with 15:48 left to play. Dickinson pulled within seven but Hopkins managed to keep them at arms distance to pull out the win.
Hinckley was the Red Devils' top performer, tallying 14 points, six rebounds and three steals while McNeal scored 10 points. Allen finished with nine points while Melton and Sam Lorenzo '18 each scored five points and hauled in four rebounds.
The Red Devils' record falls to 12-9 overall and 8-6 in the Centennial Conference. Their next game will be their final home contest of the season as they go up against Ursinus at the Kline Center on Saturday, Feb. 10 at 4:00 p.m.