Softball Faces Elizabethtown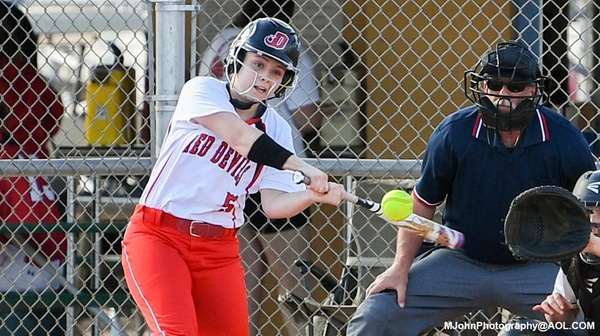 After returning home from a very successful training trip in Tuscon, Arizona, the Dickinson softball team faced Elizabethtown College in a doubleheader on Monday, March 19 on the road. The women were confident going into both games having a strong showing the week before.
In the first game, both teams were unable to bring in a run for the first four innings. Elizabethtown finally broke the drought and scored their first run in the fourth. To keep with the momentum, the Blue Jays brought in another in the sixth to bring the score to 2-0 with just one inning left to play.
The Red Devils did not let the game go without a fight. They were able to put one on the board in the top of the seventh but could not muster a second score, leaving the final score at 2-1. Julie Siecinski '21 scored after being batted in by Alissa Lema '20. It was an unfortunate loss for the team, but they were ready for the next game of the doubleheader.
The Red Devils started game two off strong, scoring two runs in the first inning. Brigitte Gutpelet '21 doubled and scored alongside senior Nicole Clayton who doubled and brought in her teammate Jessica Epstein '18.
Unfortunately, even with a strong start, Elizabethtown caught up quickly in the third to tie and pulled ahead with four runs in the fourth inning. This brought the final score of the game to 6-2 in favor of the Blue Jays.
Dickinson battled hard to the end but faced a 0-2 double header result. This brought the team's overall record to 9-5.
We wish the women luck as they look to take on Gettysburg and Susquehanna for double headers away this Thursday, March 29 and a double header at Swarthmore College this Saturday, March 31 at 1 p.m. and 3 p.m., respectively.