Women's Lacrosse Falls to Denison, Washington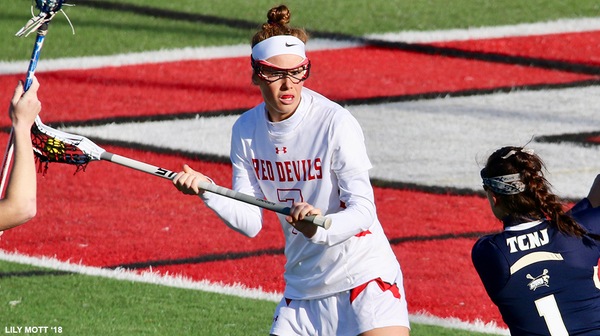 Women's lacrosse has faced a tough line up of games the past few weeks but have made a strong showing in each one.
The last game of the women's training trip in Tennessee was against Denison College on Saturday, March 17. The lead changed hands often throughout the entirety of the first half. Denison was the first to score but the Red Devils answered quickly. Before long the score reached 4-1 in favor of the Big Red and Dickinson had work to do to get back into the game. They scored five straight goals bringing both teams into the half with a score of 6-4.
With a relatively low scoring first half it was expected the second half would follow suit, however this was not the case. Both squads produced goals quickly and efficiently throughout the entirety of the second half until the final seconds on the clock ticked by. The final score of the game was an unfortunate loss for the Red Devils by a score of 12-16.
The highest scorer of the game was Erika Boles '21 who put five on the board for the team. Following suit was first year Avery Priest with six assists.
With this game behind them and a strong training trip the Dickinson women traveled to Washington College on Saturday, March 24. This game was another that was very high scoring, although the Red Devil did not begin as strong as they had previously, and the score going into the half was 10-5 in favor of the Shorewomen.
Not liking being down by 5 after the first minutes of play, the team put themselves back into the game by scoring seven goals in the second half. Dickinson was the first to score and attempted a total of 28 shots put again unfortunately suffered a disappointing loss and a final score of 12-16.
Overall the Red Devils utilized a great amount of teamwork with a number of different players scoring. Classmates Maddie Parker '19, Eleanor Kaestner '19, and Anne Dunster '19, along with Ashley Conner '20 and Mach Maurer '21 and Erika Bloes '21 contributed to the Red Devils' total of 12 goals.
After these two losses the Red Devils' record stands at 3-4 overall and 0-1 in the Centennial Conference. We wish them luck as they look forward to hosting York College this Saturday, March 30 at 4 p.m. for Autism Awareness Day.