Women's Lacrosse Falls to York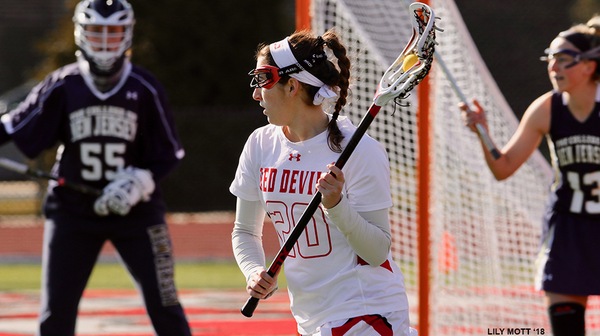 The Dickinson women's lacrosse team faced a tough game against No. 5-ranked York College on Friday, March 30. The game was played on Biddle Field and called for a large showing for Autism Awareness Day.
The Red Devils were poised and ready to go from the moment the game started but York put the first three points on the board, wasting no time at all. Using a great deal of teamwork and determination the women put a stop to the initial run by putting a score of their own on the board, off the stick of Anne Duster '19.
Both teams pushed into the half, fighting hard for the lead but the Spartans maintained their initial lead going into the half with a score of 7-2. Erika Boles '21 was the player able to begin to cut the deficit on an assist from Greta Holt '21.
The game continued with York ahead of the Red Devils, placing a larger gap between the teams as time went on, but the Red Devils were not broken yet. They pushed hard to the finish and did not let the game get away from them completely.
Maddie Parker '19 and Ashley Conner '20 added to the final tally of 4 goals for the Red Devils. York's strong defense did not stop Dickinson from working the ball down the field the best they could, shooting a total of 32 shots, many more than the Spartans. Both teams played strong game, holding one another to 14 turnovers each.  Julia Primeau '18 forced three of the turnovers playing a very strong defensive game.
Although the Red Devil's battled the best they could to hold back York, they faced an unfortunate final score of 4-13. This dropped the team's record to 4-5 overall.
We wish the women luck as they head to Haverford this Saturday, April 7, at 12 p.m.