Track & Field Competes at Messiah Invite, Bucknell Invite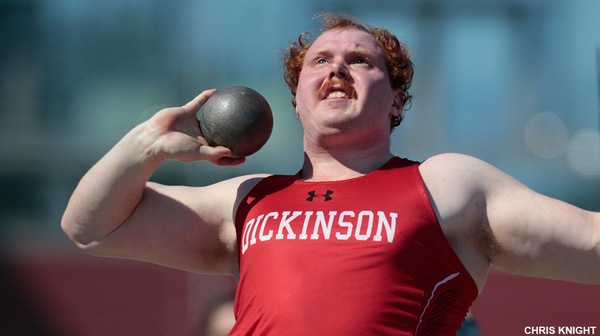 Adam Gamber '20              , Sports Writer
April 19, 2018
The Red Devil track and field team sent athletes to both Messiah College and Bucknell University last Friday and Saturday, April 13 and 14.
At Messiah, the Dickinson women performed well, including a first place finish in the 400 meters by Natalie Suess '20 with a time of 59.10.  Suess also placed fourth in both the 200 meters, running 26.79,  and high jump, clearing 1.48 meters.  The women's 4×100 team, consisting of Suess, Wrutoe Bonwin '20, Liana Tabtiang '20, and Cara Dougherty '21, took fourth with a time of 51.03.
In the 5000 meters, Amelia Lufrano '21 placed second and Teressa Healy '20 placed seventh. Macallan Fox '20 placed seventh in the 800 meters with a time of 2:35.34, with classmate McKenna Spaulding '20 and Annie Ulian '21 finishing eighth and ninth, respectively, less than a second later. Eryn Nelson '19 finished 10th in the 400 meter hurdles in 1:15.76.  The women's team finished seventh in overall team scoring.
At Bucknell, Sofia Canning '18 placed 14th in the 10000 meters, and Lucile Ionescu '19 placed ninth in the unseeded 5000 meters.
The Dickinson men also had a successful day at Messiah, beginning the event with first and second-place finishes by Oden Bules '21 and Ethan Burg '20 in the 10000 meters, with respective times of 35:14.46 and 38:05.12.  Nathan Udell '18 won the 5000 meters with a time of 15:56.63, and Matthew Persick '18 placed sixth in 16:35.14. Garrett Randall '21 took third in the 100 meters, running 11.16.  Classmate Kenny Blessing '21 took sixth with 11.42.
Michael Murphy '20 placed fifth in the 200 meters with a time of 23.31, followed by Randall, who finished eighth with a time of 23.53. Thomas Riordan '20 ran the 800 meters in 1:58.97, taking second.  Devin Glasson '18 threw the shot put for 14.34 meters, finishing fourth, the discus for 43.89 meters, placing fourth, and the hammer for 38.63 meters, taking tenth.  In the pole vault, Kacper Rzempołuch '21 placed first, clearing 4.50 meters, and Adam Gamber '20 took second with 4.20 meters.
The Red Devil men placed third in overall team scoring.  At Bucknell, Eric Herrmann '19 placed 36th in the 1500 meters with a time of 3:53.84, while classmate Duncan Hopkins '19 won the unseeded 5000 meters in 14:54.41.  Bryce Descavish '20 ran the 10000 meters  placing 24th.
The Red Devils compete next at Shippensburg Duals at Shippensburg University at 4 p.m. on Wednesday, April 18, and then again on Saturday, April 21 at 10:00AM at the Mason-Dixon Invitational at Gettysburg College.