Women's Lacrosse Tops Swarthmore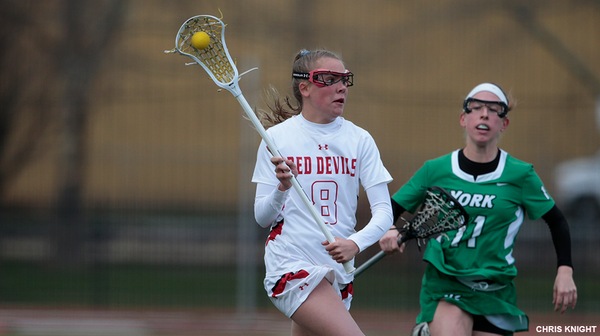 The Dickinson women's lacrosse team was ready to face Swarthmore this past Saturday, April 14 with confidence and determination to come out on the other side with a victory after a staggering loss the previous weekend against Haverford College.
In the first minutes of the game the women showed their strength as a team and made a 5-0 run before Swarthmore was even able to put one on the board. The 5-0 run was made possible by Anne Dunster '19 as well as Eleanor Kaestner '19 who both scored twice in the first half.
Going into the half the women of Swarthmore pulled the game within 1, scoring 4 of their own to bring the score to 5-4 at the half.
At the opening of the half both teams were poised and ready to fight to the finish. To start the half, the Garnet pulled into the lead, but their advantage did not remain for long as Ashley Connor '21 answered the call of the women and made the final lead change in favor of Dickinson.
The women fought hard to the finish and were able to pull off a second half performance that was as strong as the first to bring home a 15-9 victory for the Red Devils.
Erika Boles '21 accounted for 5 of the 15 scored the women claimed throughout the game and led in shots scored, followed by Dunster who tallied 4. Connecting on 15, Dickinson had 34 attempted shots compared to the 21 from Swarthmore, proving their ability to effectively work the ball down the field.
This win for the Red Devil's brought their record to 6-6 overall and 2-3 in the Centennial Conference. We wish the women luck as they plan to host Muhlenberg this Saturday April 21 at 12 p.m. with hopes to repeat the victory they found against Swarthmore.