Football Falls to Susquehanna in Overtime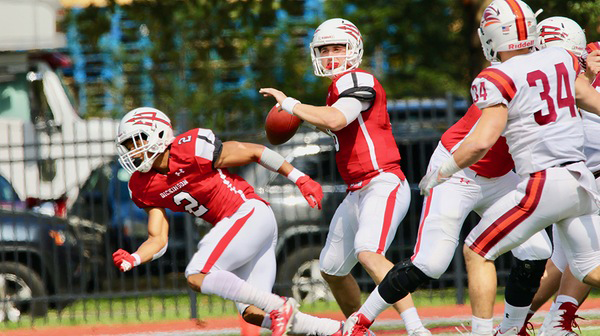 The Dickinson College men's football team had an eventful weekend hosting the Susquehanna River Hawks this past Saturday, Sept. 29 at Biddle Field. The men were coming off of a tough loss the previous weekend against Johns Hopkins Saturday Sept. 22 and were determined to put up a fight against the River Hawks and they did just this.  There was a lot of excitement in the bleachers and from the fans. Bridget Williams '21 was in attendance to the game and from the beginning thought "the student section brought a lot of much needed energy!" The energy from the fans started to push the Red Devils forward from the beginning.  
The Red Devils were the first on the board with a touchdown and a completed extra point. After excellent runs by Quarterback Billy Burger '19 and Running Back Phillip Butler '21, the touchdown was run into the endzone by Running Back Jeremy Walsh '20.  This did not cause Susquehanna to back down and they answered with a touchdown in quick response.  
To complete the scoring for the first quarter, kicker Trystin Golowski '20 scored a field goal to bring the first quarter score to 10-7 in favor of the Red Devils.  
The only scoring that happened in the second quarter was done by the River Hawks with another touchdown bringing them into a leading position with a score of 14-7 going into the half. 
Yet the Red Devils did not get discouraged and came out ready to go in the second half. The desire to win by the Red Devils was seen in one of the opening runs completed by Wide Receiver Jake Walbert '19. He ran for a 62-yard touchdown run and completed this push. Susquehanna answered quickly with a touchdown of their own. Dickinson did not like not being behind and again scored another touchdown going into the third quarter with a score of 24-21 with the men of Dickinson in the lead.  
The fourth quarter did not result in a lot of scoring except for a field goal completed by the River Hawks to bring the game into overtime. Unfortunately, in overtime, Susquehanna completed a touchdown pass before Dickinson was able to put themselves on the board and the River Hawks took the victory in a 30-24 win.
This game brought the men's overall record to 1-4 and conference record to 1-3.