Football Defeats McDaniel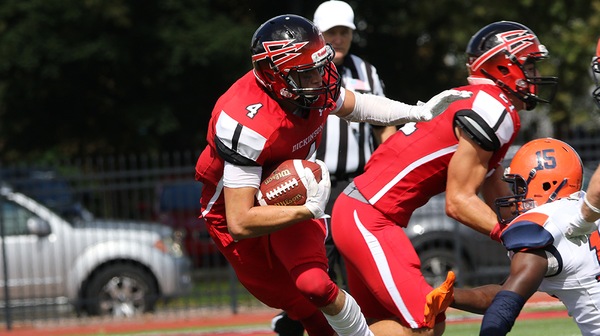 Hang on for a minute...we're trying to find some more stories you might like.
The Dickinson College Football Team were determined to bring home a victory this weekend after a saddening loss in overtime the previous weekend. The men traveled to McDaniel Saturday, Oct. 6, to prove themselves on the field and they did just that.  
On the first possession of the game the Red Devils were on the board with a 3-0 lead. Kicker Trystin Golowski '21 completed a 27- yard field goal attempt to spark the momentum for the Red Devils for the rest of the game. The first quarter excitement continued with 7 more on the board bringing Dickinson into a 10-0 lead going into the second quarter.  
The next quarter continued the same. Although McDaniel put one touchdown on the board, the Red Devils answered without a problem with a touchdown of their own, brought into the endzone by Wide Reciever Jake Walbert '19. The score was 17 – 7 at halftime with Dickinson in the lead.  
In the third quarter McDaniel were the only ones to score bringing the game into a much closer point range, specifically 17-14 at the end of the third quarter. With McDaniel coming in hot behind them, the men of Dickinson opened the quarter with a touchdown from Running Back Phillip Butler '21. McDaniel answered back again bringing the score within 4 points, to 24-20.  
As the minutes ticked by the Red Devils were determined to not let the game go and Golowski secured the win with a field goal. This brought the final game score to 27-20 in favor of the Red Devils, they found victory and redemption against the Green Terror.  Dickinson dominated in all areas of the game. They totaled a large 188 rushing yards compared to McDaniels 84.
This victory pulled the men's record forward to 2-4 overall and 2-3 in the Centennial Conference. The men will take a week off of competition before they will face their rival Franklin & Marshall Oct. 20 at home for the Conestoga Wagon.