Field Hockey Performs Well in Long Weekend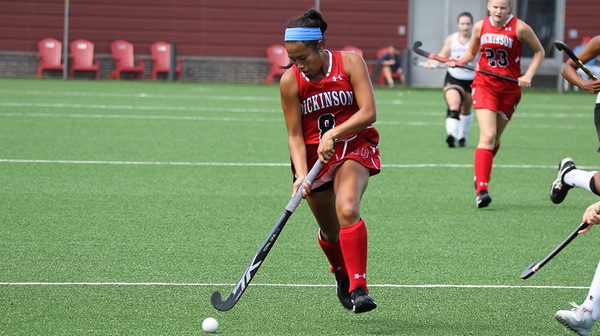 Shane Shuma '22, Sports Writer 
October 18, 2018
Hang on for a minute...we're trying to find some more stories you might like.
The Dickinson College field hockey team faced the Lynchburg University Hornets on Friday, Oct. 12, at home. 
 The Hornets opened up the scoring, putting themselves on the board quickly and building up their lead. Eventually the Hornets had 4-0 lead at the end of the first half.  
After the half the Hornets scored one more time bringing them into an even further 5-0 lead.  Dickinson's Sydney Hengler '22 hit a shot just inside the post in the second half to put the Devils on the board and prevent the team from being shut out. The game unfortunately ended with a 1-5 loss for Dickinson  
On Saturday, Oct. 13 at 12 p.m. Dickinson hosted the Bryn Mawr Owls. The Devils scored on their first shot of the game. Chelsea Kramer '19 scored on a cross from Mia Scott '20 to put the Red Devils on the board.
The game was close at the half with Dickinson only holding on to a 2-1 lead, though the final score did not reflect this.  
The Red Devils scored four more points in the second half while holding the Bryn Mawr Owls back from scoring again in the second half. 
The Dickinson Red Devils routed the Owls with a final score of 6-1.