Field Hockey Ends Season Optimistically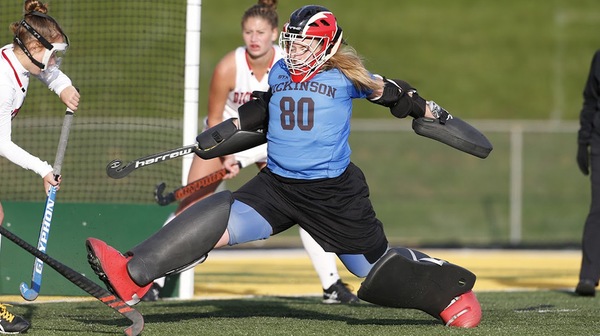 Hang on for a minute...we're trying to find some more stories you might like.
The Dickinson Field Hockey Team's season ended unfortunately against Muhlenberg last Wednesday, Oct. 31 in a hotly contested playoff match. The Devils entered the playoffs after beating Gettysburg College at home on Oct. 27 and improving to 5-5 record to make it into the first round of the Centennial Conference playoffs as the fifth seed. The Muhlenberg Mules held the advantage offensively in the first half, outshooting Dickinson 6-1 and scoring first with thirteen minutes to play. However, the Devils' defense was stout, with a strong defensive effort from goalkeeper Heather Meeder '20. The Devils' offense came back stronger in the second half, outshooting the Mules 8-5, but they were unable to convert those shots into goals, even after forcing three straight penalty corners late in the game. The defense kept the Devils in the game, but it wasn't enough as the Devils fell 1-0 to Muhlenberg, ending their season. 
The season ending after such a great performance in their games the last two months was hard, but there is much optimism for next season. According to midfielder Marie Laverdiere '21, "nobody wanted the season to end, and we were all upset after the Muhlenberg game. Our goal now is to keep building, to take the lessons we learned this season and grow from them. Now is the time for us to prepare for next fall, for us to do what it takes to make it to the Centennial Championship."