Women's Swimming Starts Strong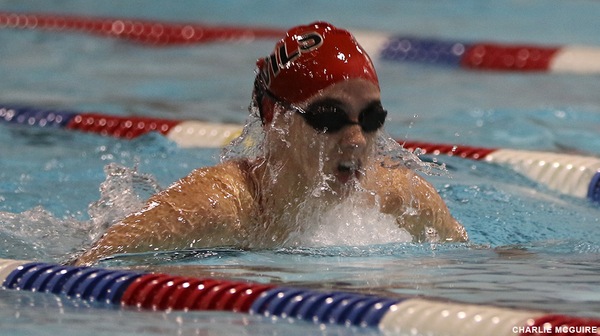 Hang on for a minute...we're trying to find some more stories you might like.
The Dickinson College Women's Swim Team has begun their season and they are well on their way to a successful one. Although the first meet on Oct. 27 against Ursinus College resulted in a 85-119 loss, the women proved themselves in the pool and showed the depth and talent the Red Devils are going to have this season. Using this strength and an overwhelming sense of motivation and determination for the season the women headed into their first tri meet of the season, at Wilkes College on Nov. 3 against Lebanon Valley as well as Wilkes. The women had an impressive day. They started out with momentum, securing a win in the first event, the 200 medley relay with Katie Schmidt '19, Maddi Vlattas '22, Molly Sternick '20, and anchor Hannah Griffith '21. The success of the relay carried into the rest of the events of the day. Olivia Lyman '19, took over next, placing first in the 1000 freestyle and then later the 500 freestyle. She was followed in second by Maddie Littlepage '21 in both events. The trend of placing first in events was one that the women held throughout the day, finding victories in every event raced in. The win was secured and the women won against both teams, 116-60 over Wilkes and 112-84 over Lebanon Valley. We wish the women luck as they head to Bryn Mawr this Friday Nov. 9 and host the University of Scranton Saturday Nov. 10.