Women's Squash Starts Season Strong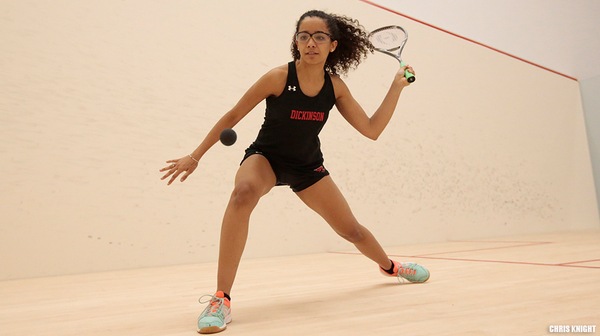 The Dickinson College Women's Squash team had their first tournament this past weekend, the Pennsylvania Cup, Nov. 10 and Nov. 11 at Franklin & Marshall. The women fell to Drexel 9-0 but topped Franklin & Marshall with a strong 7-2 victory. With a new coach starting a few weeks into the season and a strong amount of first year talent the women were looking forward to seeing what they could do out on the court.  
The strongest sets played in the first day came from Courtney Trail '22 and Lindsay Kuracina '22 who currently hold the first and second spot, respectively, on the team after a series of challenge matches that took place at practice the first few weeks. In the second day, the women continued to play well and put their best foot forward. Trail and Kuracina both won in straight sets setting the tone of success for the day. Domenica Romo '19, holding the third spot, was behind 0-1 before overcoming the deficit and finding victory. The trend of success was common on the second day and the women were encouraged and motivated to play even harder. With the loss and success of the Penn. Cup, the women advance to 1-1 overall and will continue to compete throughout the season and hopfully advance their record in a positive direction. We wish the women luck as they host Bates College Saturday, Nov. 17, for their season opener.