Men's Basketball Breaks Century Mark for First Time since 2006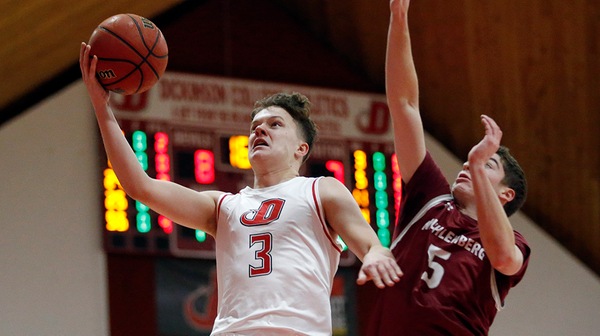 The men's basketball team have come out of the gates strong ready to play as a strong cohesive unit and make a name for themselves in the conference. They started this off well with their first conference game and victory this past Tuesday, Nov. 20 against Muhlenberg in their home opener. The same week, Sunday, Nov. 25, the men unfortunately fell 70-86 to Misericordia.
Against Muhlenberg, the Red Devils had an impressive showing. They reached the century mark as a team for the first time since 2006, a very impressive feat.
Mike Hinckley '19 was the first to put Dickinson on the board and in the lead and this trend continued throughout the rest of the game. Hinckley also led in scoring for the night putting up a total of 19 points throughout the game.
The men showed excellent teamwork and went into the half with a 45-31 lead. Throughout the second half the lead continued to grow to a 38-point victory. Bryce Allen '20 ad Elijah Wright '19 led the team in rebounds with a total of eight. The men showed their abilities as a team in this game beginning to show themselves in the conference.
The men hoped to further this success against the Misericordia Cougars. The Cougars scored quickly bringing them to a 7-0 lead before the Red Devils could answer. Before long, Dickinson brought it back with an 11-point uninterrupted run. This lead did not continue throughout the first half and Misericordia was up 40-33 at the half. Dickinson tried to bring it back but were not able to resulting in a loss for the game but not without a fight. Adam Drummond '22 led the team in points scoring a grand total of 25.
This game brings the men to a 1-4 record overall but a 1-0 conference record. We wish the men luck and continued success as they travel to Franklin & Marshall Thursday, Nov. 29.