Men's Squash Has Difficult Start to Season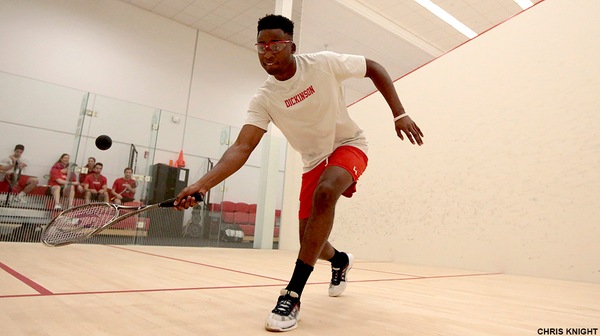 By Sammi Werner '21, Sports Editor 
November 29, 2018
Hang on for a minute...we're trying to find some more stories you might like.
The Dickinson College men's squash team faced a difficult week hosting Bates  College Saturday, Nov. 17, and traveling to Navy College Sunday, Nov. 18. The men unfortunately fell 4-5 and 2-7 respectively for the weekend.
The matches against Bates were all close and came down to the final few to determine the outcome. Abdelrahman Elsergany '20 had a 3-0 victory in his set. Sergio Martin '21 found success as well with a 4-set win. This trend was also followed by Cori Litman '19 who had a 5-set victory. Although the match did not result in a win for the men they were not discouraged and set their sights on the rest of the weekend.
In the traveling to Navy, the men again performed well but were overtaken by the higher-ranking Navy College. The two wins for the men were achieved by Martin who again had an excellent showing overcoming a 2-0 deficit to win the set as well as Osuman Imouro '21 who had a 3-0 success. Under a new coach with new determination the men will continue to push on. The men now sit at a 0-4 record overall and a 0-0 conference record.
In speaking with Zack Hollander '21 he said "The season has started off a little slow, but that does not mean we are out. We are just getting started." His excitement for the season matches many of the other players and we hope to see it out on the courts. We wish the men luck as they travel to Wesleyan this upcoming Saturdy, Dec. 1, to face Hobart College and Colby College.