Women's Swimming Falls to Bloomsburg, Tops Messiah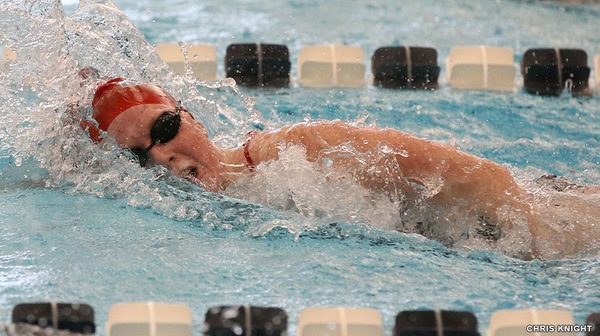 Hang on for a minute...we're trying to find some more stories you might like.
Last Saturday, Nov. 17, the Dickinson women's swimming team traveled to Bloomsburg, Pa., to face Bloomsburg University. Although the meet was out of conference the women were determined to swim to the best of their ability. The team performed well and there were many great individual performances but the Devils lost a 152-97 decision. The women did not get set back by the loss and hosted Messiah College Tuesday, Nov. 27 and found a close 109-96 victory. 
In the 1000 Free Olivia Lyman '19 sped past the opposing swimmers, hitting a season best. In the 500 Free Lyman pulled off a win as well. 
Katie Schmidt '19 performed well at the meet as well coming in third in the 200 Back with a time of 2:14:45 which was just behind the opposing team's first place swimmer at 2:11:17. She also came in third in the 100 Back again where her time again fell just short of the opposing swimmers. The team did well and there was a great sense of optimism inspired by past success and new swimmers. 
Against Messiah, the score was close from start to finish. The opening 200 medley relay gave Messiah the advantage to start the meet, but the rest of the meet had the Red Devils in the lead. Lyman continued her streak with a win in the 1000 and the 500 Free. She remains unbeaten in the 1000 and hopes to continue this trend throughout the rest of the season. She hopes to again win the conference at championships as she has done the past few years. The team had many impressive swims as a whole. Molly Sternick '20 posted victories in the 50 Free and the 100 Butterfly. The Red Devils secured many individual event victories.   Following the meet Hannah Griffith '21 who has performed incredibly well throughout the season holding two records so far states, "Today's meet was our second win at home and it was a great source of momentum leading up to the Gettysburg Invitational this weekend." 
According to first-year Brooke Kelly, "It's been an incredible experience so far being a part of the Dickinson swim team. We are all working extremely hard now that Champs is coming up." The Devils are 5-2 on the year and were coming off a four-game winning streak before their loss to Bloomsburg. 
The team is now looking ahead to the  Gettysburg Invitational this upcoming Friday, Nov. 30 and Saturday, Dec. 1.  We wish the women luck as we hope to see continued speed in the pool and a strong showing from the team.