Men's Basketball Adds 10 Freshmen to Roster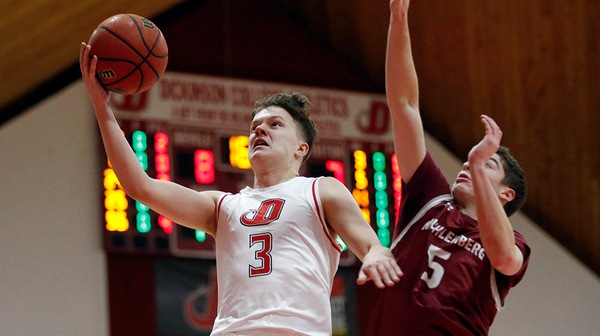 Jack Tierney '22, Contributing Writer
December 6, 2018
No sports team is perfect, each with its strengths and weaknesses. For Dickinson men's basketball their 10 first -years on the roster have been the biggest hurdle so far.
Despite over half the team still trying to figure out where the Quarry is, Dickinson Head Men's Basketball Coach Alan Seretti is excited saying, "Every group is different and we have had some young groups in the past.  The difference with this year's team is that fourteen of our eighteen guys are underclassmen and two of our upperclassmen did not have the chance to play a full season last year.  Working with so much youth is exciting because we have no reason not to get better every single time we take the court."
The situation has yielded opportunity for some. Adam Drummond '22 has already settled into his role as a starter. With already two games of over 19 points this season Drummond has been a standout player. When asked about the youth of the team he said, "I think there's obviously some positives and negatives but overall the group we have is very talented and should be great for four years." 
The Red Devils have started the season 2-5 overall but are 2-1 in conference play with wins over Muhlenberg and Ursinus. Strong scoring and defense from upperclassmen has sparked the team. An important factor for such a young team is the leadership, and junior captain Bryce Allen '20 has a huge role in that. Allen spoke about the young core saying, "It's great, and has been fun but, at times, a challenging task. There are so many different backgrounds and personalities, and to see them start to mesh with our returning guys is a great feeling."
A focus for this season will not only be to win games, but to see development from all underclassmen. Coach Seretti added, "We have seen a steady progression with the group in terms of understanding the effort needed to play at a high level.  We have also seen the guys start to learn how to play with one another which is a huge part of the process."
We will continue to watch and follow the up and coming first-year class and the rest of the team as they progress through the rest of the season as they look forward to take on Johns Hopkins Sat. Dec. 8.