Men and Women's Swimming on Four-Meet Hot Streak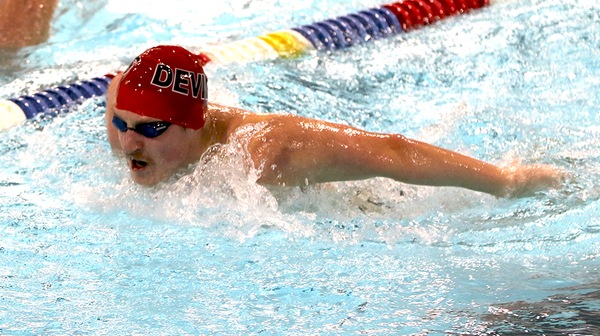 The Dickinson College men and women's swim teams have had a string of successes upon returning to campus from their winter training trip to Fort Lauderdale, Fla.  Both teams have had a large number of meets to tackle, presenting the teams with a perhaps difficult obstacle but it was one that both teams were able to face and overcome. 
Both teams had impressive showings against Cabrini, McDaniel and Washington College, Fri., Jan. 18, Wed., Jan 23, and Sat., Jan 26. The women came out victorious with winning scores of 108-85, 57-32 and 140-65 respectively. The men found the same number of victories with 108-79, 59-35 and 131-74. The teams are on a hot streak with four wins in a row that they hope to continue.  
The most recent meet against Washington College was one of great success for both teams. The women found themselves with many first-place finishes and were able to easily take the win.  
The meet began with a 400-yard medley relay win for Dickinson with Katie Schmidt '19, Maddi Vlattas '22, Molly Sternick '20 and Samantha Boswell '19. The team was excited and motivated to continue this success. There were a large number of fans in the audience providing the same level of excitement as the team.  
The men were able to start with the same success. Graham Novitch '20, Will Freeman '20, Kiernan Jordan '19 and Ben Shapiro '19 won the 400-medley relay as well.
"I think we set the tone for the meet with a close and fun race. We were happy to start with a win," Novitch reported.  
The trend continued into distance with the Red Devils winning on both the men's and women's side. Olivia Lyman '19 won the 1000 for the women and Logan Cort '22 did the same for the men.
On the women's side there were many other event winners, such as Sternick in the 50 and 100 freestyle, Vlattas in the 200 IM, Schmidt in the 200 backstroke and Hannah Griffith '21 in the 200 yard breaststroke.  
The men had the same level of success, Shapiro took the 50 and 100 freestyle, Freeman touched first in the 200 IM and Jordan won the 200 butterfly.  
Each win brought the teams closer to victory. The level of motivation and encouragement from the sidelines did not fade and was a driving force in the success.