Men's Basketball Falls to Ursinus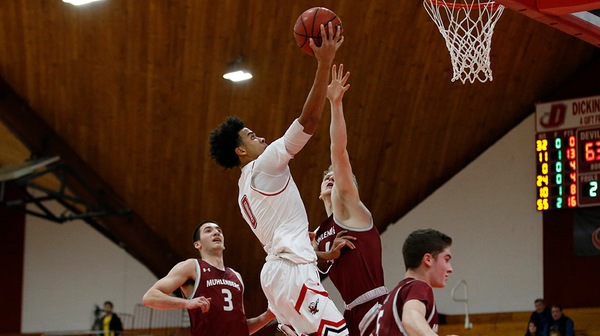 Hang on for a minute...we're trying to find some more stories you might like.
The Dickinson men's basketball team suffered a close loss on Sat., Jan 26 to Ursinus College, losing 95-88 to the Bears. The whole team played well, with all five starters scoring double digits. The two teams were evenly matched throughout the game, with four-point and three-point margins in both halves respectively. The Devils shot out to an impressive early lead of 19-9 on four three-pointers, but Ursinus rallied to lead at the midpoint of the first half 29-28. From there Ursinus took control in the second half, but the team attempted to steal a win in the final seconds. Performances by Bryce Allen '20 and Mike Hinckley '19 brought their deficit down to five with seventeen seconds left, but the Bears held on to survive. "Coach is always emphasizing that we have to improve every single day especially since we're a young team. Last night [versus Ursinus] in particular was a rough loss not because we played poorly but because if a couple things went differently, we could've easily found ourselves on the winning side," said Garret Markey '22. 
After the loss, the men's basketball team moves to 9-10 on the season with a 7-5 record in the conference, ranking fourth in the Centennial Conference standings. They hope to at least maintain this position if not improve it throughout the season. The team has faced challenges due to its youth and the creation of new team chemistry, but there is much optimism and talent on the team. Markey '22 commented on the team's season so far, stating, "we're a young team and whenever you have a squad with a majority of underclassmen there's going to be a learning curve. On top of the learning curve the season can be taxing and tiring especially speaking from the perspective of freshmen because we're all still getting adjusted to college life and college athletics."
The Red Devils will travel to face Haverford Sat., Feb. 2 and we wish them luck on the road.