Men's Basketball falls to Muhlenberg, Haverford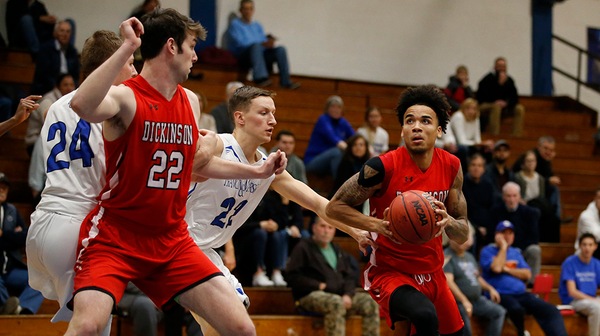 Shane Shuma '22, Sports Writer
February 7, 2019
Hang on for a minute...we're trying to find some more stories you might like.
Last Wednesday, Jan. 30, the Dickinson men's basketball team fell to Muhlenberg College as their offense struggled after the Mules took an early lead. Muhlenberg made four three-pointers to come out to an 18-6 lead to start the game, a lead that nearly matched the final deficit of 75-59. While the Devils did have trouble getting their offense off the ground, they still had a lot of fight in them throughout the game. Elijah Wright '19 led the team with 17 points, and Bryce Allen '20 scored 14, the only other team member to reach double digits. The effort on defense was consistent after they rebounded from allowing an early deficit. The defense kept the Devils in the game and kept it close in the second half. Garret Markey '22 said that the, "Muhlenberg game was definitely a disappointing one for our team. We didn't play nearly as well as we are capable on both ends of the floor. However, it's definitely a learning experience of how hard each conference game is no matter the opponent." The loss came as the second in two games as the Devils moved to 9-11 overall and 7-6 in the conference. 
On the following Saturday, Feb. 2, the Devils were tasked with facing Haverford on the road. They were ready for the challenge. The Devils had a very slow start, falling 19-2 in the early stages of the game. The offense made a comeback, improving the deficit to 40-30 at halftime, gaining some momentum into halftime. The Devils came out ready into the second half, with Wright making back-to-back scores before the other side answered. Wright went back-to-back later in the game, with a basket and a three-pointer to reduce the deficit to 8 with twelve minutes to play. The team played hard until the end but ended up falling 82-70. Wright had an impressive night, scoring 25 points, the most of both teams. Chris Bates '22 and Allen also scored double-digits. The loss was the third one in as many games for the Devils, as their conference record fell to 7-7 on the season. The Devils will host Swarthmore on Saturday, Feb. 9 where they will have a 4 p.m. start.