Men's Basketball Falls to Franklin & Marshall, Swarthmore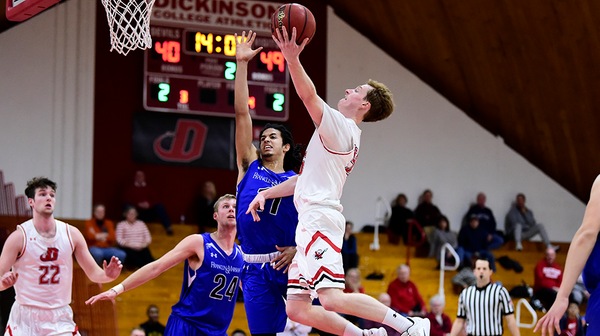 Hang on for a minute...we're trying to find some more stories you might like.
Last Wednesday, Feb. 6, the Dickinson College Red Devils faced the Franklin & Marshall Diplomats at home and fell for the fourth time in as many games. The game was close, with the final deficit totaling 65-60. In the first half of the game the lead switched often between the two teams, with the score totaling 35-33 in favor of the Diplomats at half-time. The Diplomats started strong in the second half, building up a sizable 55-43 lead with eight minutes left to play in the game. The Devils tried to stage a comeback, cutting the lead to single digits with less than eight minutes remaining on the back of strong performances. The Devils were unable to catch up however, with the Diplomats securing their victory with a three-pointer near the end of regulation. It was another impressive game for Elijah Wright '19, who finished with fifteen points and seven rebounds. The two teams were closely matched in scoring, with both teams making about 38% of their baskets. On Saturday, Feb. 9 the Devils faced the Swarthmore College Garnet at home. The men were ready to host for their Senior Day and celebrate the two seniors on the lineup. 
The Kline Center was all in red as the stands were filled with passionate fans. There was a very strong sense of encouragement and excitement throughout the section and everyone was cheering.
According to Kyle Lee '22, "I liked the environment that fans were showing up… and people having on t-shirts to show their team spirit. It was pretty packed I would say." The Garnet started strong jumping to an 11-point lead at the midpoint of the first half. The margin eventually grew to 22-points, but Mike Hinckley '19 tallied seven points in the final two minutes, helping decrease the deficit to 46-29 at the halfway point. To start the second half the two teams were neck in neck. The Devils brought the opposing lead down to 10 with six minutes to play but they could not finish the game. The final score ended in favor the of the Garnet 100-82. Bryce Allen '20 and Hinckley led the team in scoring, totaling 23 and 20 points respectively on the day. After the game the Devils fell to 9-14 overall record and 7-9 in the conference. The team is now winless in its last five games.  
When asked about the game, Lee said, "Both teams played really great. They really gave us something to watch and it was very entertaining." The Devils finished their home stand against Gettysburg College on Wednesday, Feb. 13 at 8:00 p.m. in the Kline.