Women's Squash Has a Weekend of Victories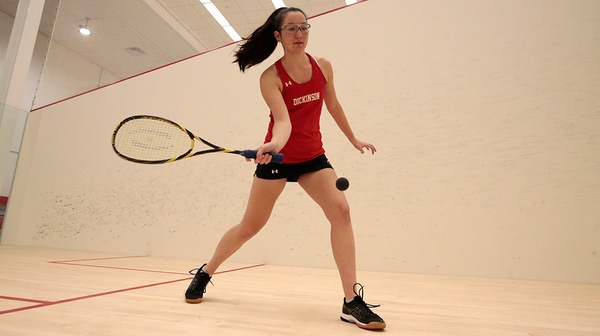 Hang on for a minute...we're trying to find some more stories you might like.
The Dickinson College women's Squash team faced a two match weekend. Hosting St. Lawrence for Senior Night Friday, Feb. 8, and traveling to Franklin & Marshall Saturday, Feb. 9 to face Haverford and Franklin & Marshall. Although it was a long weekend, they came out with back to back victories, 9-0, 9-0, and 5-4.  
Against St. Lawrence at home there was a large fan section in attendance. This gave the women even more motivation and they were ready to compete. 7 of the 9 flights were won in straight sets. Each flight demonstrated the strong skills the women have been developing as well as the team comradery that is ever present.  
The next day at Franklin & Marshall the comradery and the excitement levels were the same. The first match of the day was against Haverford and the women took the victory without a problem. Again 7 flights were won in straight sets.  
After the win against Haverford, the women turned their sights to Franklin & Marshall. The Red Devils were hungrier for a win because they had been defeated 5-4 the previous week. Lindsay Kuracina '22 put the first win on the board winning a straight flight. Aya Sobhy '21, Carley Barton '21, Abbie Wingerd '19 and Jamie Leigh Edghill '20 put the remaining points on the board and helped to pull the match in favor of the Red Devils for their third weekend win.