Men's Basketball Tops Gettysburg, Falls to Washington College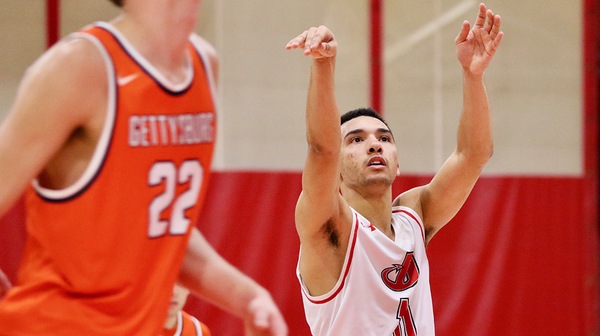 Shane Shuma '22, Sports Writer
February 21, 2019
The Dickinson College men's basketball team had a very eventful week looking to make it to the playoffs. The men faced the Gettysburg College Bullets last Wednesday, Feb. 13. The Devils were able to rally from a nine-point deficit and squeak a 91-86 win to keep their playoff hopes alive. 
The Bullets started strong, opening an impressive 17-2 lead in the opening four minutes. The Devils shortened the deficit, but a second wind for Gettysburg had them up by 15 points. The Devils did rally to close the half, cutting the deficit to nine. 
Bryce Allen '20 had a great game, contributing much to the Devils' rally to end the first half and scoring 25 total points.  In fact, three other players reached double digits as well, including first-years Adam Drummond, Ryan Robinson and Onye Okoro.
Accuracy was a key to the team's success, with the four players mentioned making 8 of 11 of their three-pointers. The Devils improved to 10-14 overall and 8-9 in the conference. They also moved to a three-way tie in the standings, placing much importance in their next game. 
Last Saturday, Feb. 16 the Washington College Shoremen prevented the Devils from advancing to the playoffs with the Red Devils ending with a 96-79 defeat.  
The Devils had a slow start  trailing 52-36 at the half. Strong efforts on both the offense kept the game close in the second half. At one point the Devils trailed by only 3 points at the 16-minute mark at 52-49. However, the Devils failed to sustain the rally and fell 96-79.