Men's Lacrosse Has Strong Start to Their Season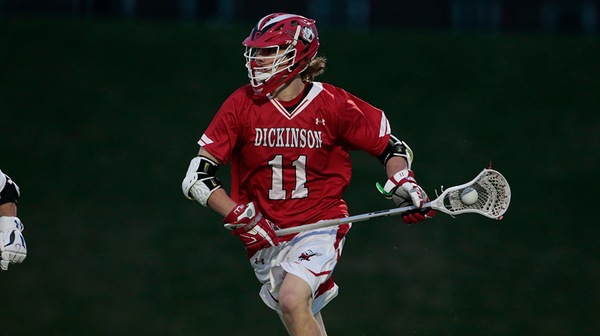 Sammi Werner '21, Sports Editor
February 21, 2019
The Dickinson College men's lacrosse team officially has begun their season. They had their opening game against St. Mary's Sat., Feb. 16. After an intense preseason the men were ready to undergo the season and prove themselves again on the field as they have done in many seasons prior and they did just this securing a 13-10 win against St. Marys. 
Joel Mayo '19 was the first to put a point on the board for the Red Devils in the beginning of the game. The Seahawks quickly answered back with a goal of their own and both teams held the score to 1-1 after the first quarter.  
Going into the second quarter the men were fired up and ready to perform. The men put up three more goals in the first half to bring the men to a 4-3 lead going into half time.  
The start of the second half began with St. Mary's but not without Dickinson close behind to keep the gap closed. In the second half the men of Dickinson were able to put 9 more points on the board compared to the 7 that St. Mary's achieved. This would bring the men into the final score of 13-10 in favor of the Red Devils.  
Although the men of Dickinson only won by three goals, in terms of shots taken Dickinson was not matched. The Red Devils attempted a total of 61 shots compared to St. Mary's 29. This demonstrated their excellent ability to work the ball down the field and get the ball on goal. Their skill was also shown in faceoffs. Dickinson came up with 19 of the 26 total face offs.  
Three different players dominated the scoring for the Red Devils making four goals each.  The men were Brodie Phillips '19, Jack O'Connell '19 and Mayo. Cole Pellicano '20 was on goal for the Red Devils and made a total of 14 saves.  
The men now begin their season with a 1-0 positive record. We set out to wish them luck as they head to Montclair State Saturday, Feb. 23 and look to host their home opener against Elizabethtown Wednesday, Feb 27.