Men and Women's Track & Field Compete in Centennial Conference Championships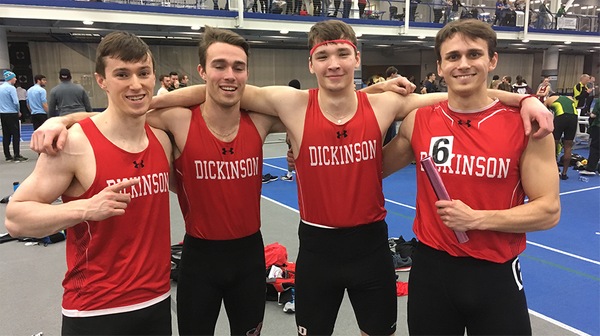 Sammi Werner '21, Sports Editor
February 28, 2019
The competition season for men and women's indoor track and field came to an end this past Saturday, Feb. 23 and Sunday, Feb. 24. The women came in third place overall and the men came in fourth.  
To begin on the women's side there were a number of stand-out performances. Naji Thompson '19 found a first-place finish in the 60-meter dash. The 5000-meter was also a very strong event for the Red Devils having fourth, fifth and seventh place finish. These performances were done by Emma Johnston '19, Sarah House '20 and Tessa Cassidy '20. Alexandra Colby '22 qualified for finals in the 60-meter hurdles. Allyson Yanega '21, Sarah Yanega '21, Isabel Cardi '21 and Natalie Suess '20 were the individuals that made up the team that won the distance medley relay. Cardi placed second in the mile. The women overall had an excellent weekend and found many successes.
The same was true for the men. The first day began strong with Adam Gamber '20 finishing first in the pole vault. Bryce Descavish '20 came in second in the 5000 close behind the lead runner. James Lotz '19 and Brock Hartman '19 placed fourth and fifth in throwing. Christian Moran '21, Kacper Rzempoluch '21, Aaron Brick '22 and Ben Brandeis '22 came together to place third in the 4×200-medley event. Rzempoluch commented, "The relay pulled through and clutched a 2 second PR with a lot of young talent." The success continued and on the second day, Eric Herrmann '19 came in second in the mile, while Descavish placed the same in the 3000.  
The men and women both had an excellent season end.