Baseball Tops Albright College in Double Header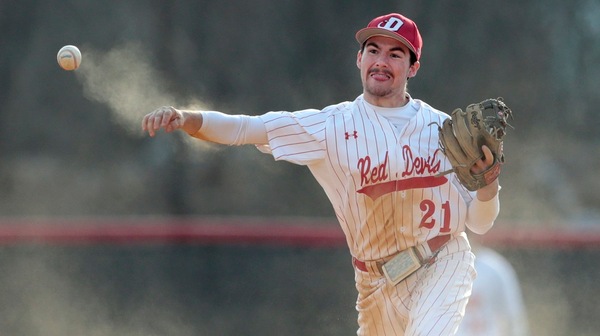 Shane Shuma '22, Sports Writer
March 7, 2019
Last Sunday, Feb. 24, the Dickinson men's baseball team traveled to Aston, Pa. to face Albright College. It was a doubleheader and their first two games of the season. The Devils' first game against the Albright Lions was an absolute blowout. The Devils outscored their opponent 12-2.  
The Devils surged to start the game, opening with a 6-0 lead into the second inning. Max Matilsky '20 opened up the scoring in the first inning with a two-run homer to bring the score to 2-0. The Devils would tack on four more runs in the second inning, the most of any inning that game. Ben Carter '19 hit a two-run homer of his own and Chris Delsandro '20 drove in Joey Volpe '21 with an RBI groundout.  
Delsandro would get another RBI in the third on an RBI single to left field. The Devils would tack on five more runs as Ethan Collins '20 held the Lions to two runs in five innings, earning him the win. Teddy Reddington '21 closed out the game with two scoreless innings of his own in an early seventh inning finish. 
The Devils were even more efficient at scoring in their second game, outscoring the Lions 15-4. The Devils had appeared to have cooled down, only scoring three runs in the first four innings. However, in the fifth inning the Devils exploded for twelve runs in a single inning. Dickinson sent sixteen hitters to the plate in the inning, with the team collectively hitting the cycle. This offensive surge was amidst a stellar performance by Tommy Koide '20, who only allowed two runs in six innings and struck out seven. The game ended early in the seventh inning, so relief pitcher Marcus Thompson '20 closed out the game allowing two runs on three hits but striking out two. 
Due to their strong start to the season the team is 2-0 with a team batting average of .473 and slugging percentage of .730. The Devils will play many teams when they travel down to Florida.