Women's Lacrosse Starts Season Undefeated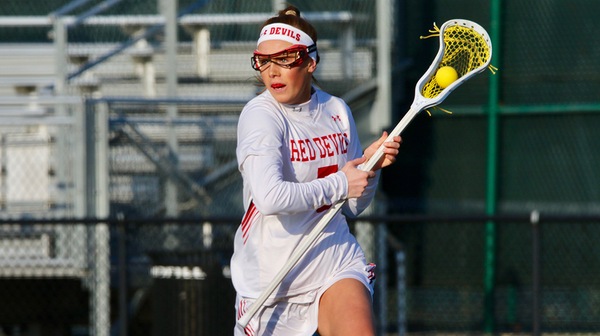 Sammi Werner '21, Sports Editor 
March 7, 2019
The Dickinson College women's lacrosse team has had an incredible start to their season. They have had three games since the start of their season.  Their first game was Saturday, Feb. 23 against Lebanon Valley, followed by one Wednesday, Feb. 27 against Messiah, and another Saturday, March 2 against St. Mary's (Md). The team has posted wins in all of them. The final scores have been 19-12, 12-9, and 13-7 respectively. The first game of the season against Lebanon Valley was impressive. The Red Devils came out of the gate strong ready to prove themselves on the field. Dickinson took off in the first half putting nine goals on the board to fly ahead of the four that Lebanon Valley answered with. Although Lebanon Valley hit first it did not discourage the Red Devils. Instead of letting the one goal get away from them they answered back with a strong six goals to prove their dominance. The second half opened the same way with a three goal stretch for the Red Devils for the start of a total of 10 in the second half. Erika Bloes '21 dominated the field scoring a total of four goals for Dickinson, the most of the day. Dickinson topped Lebanon Valley in final score, 19-12, 
To continue the success, Messiah traveled to Dickinson College. Messiah was out quick but the Red Devils answered holding the game to a tie throughout part of the first half. However Messiah soon took over and was up 6-4 going into the half. Dickinson took this as a challenge and opened the second half with back to back goals. Dickinson made the rally to pull ahead by three straight goals from Greta Holt '21, Chase Landis '22, and Eleanor Kaestner '19. The women of Dickinson continued this momentum scoring eight total goals for the victory. Sam Marmo '19 was the top scorer for the day for a 12-9 victory.  
The next victory was found against St. Mary's (Md). The Red Devils were the first ones on the board with a goal from Maddie Parker '19. They were out in front fast and continued the lead into the half being up by four with an 8-4 score. The second half matched just the same with five goals for the women compared to St. Mary's three. This brought the women to a final overall score of 13-7. 
We wish the women luck as they head to the road.