Baseball Travels to Auburdale, Florida for Training Trip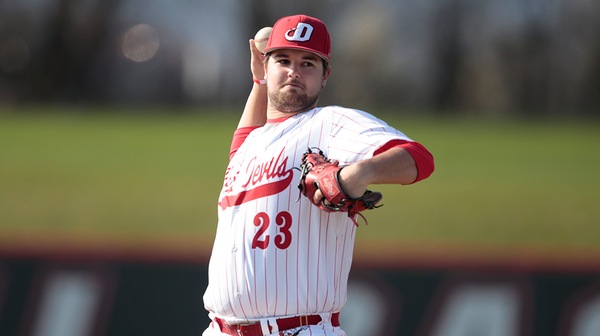 Shane Shuma '22, Sports Writer
March 21, 2019
Last Sat., Mar. 9, the Dickinson men's baseball team traveled to Auburndale, Florida, to compete in the RussMatt Invitational as part of their Spring Break tour. The team started with a doubleheader matchup against Curry College which resulted in two wins for the Red Devils, 5-2 and 4-3. 
 The first game of the doubleheader was tied 2-2 at the start of the sixth inning. After relief pitcher Teddy Reddington '21 stepped in, the Devil's offense rallied in the bottom half for three runs on two RBI singles and one RBI double. The game ended in the seventh inning with a final score of 5-2.  
The result of the second match of the doubleheader was similar to the first. After scoring runs in the first and fifth innings the Devils fell behind the Colonels. In the top half of the sixth inning, the Red Devils brought the score to 4-3. Those two runs ended the scoring in the game, securing a 4-3 win. 
The next day, Sun., Mar. 10, the Devils faced the Mt. St. Joseph Lions in another doubleheader which resulted in a 6-1 loss and 6-0 victory.  
In the first game, the Devils were dealt their first loss of the season in a 6-1 decision. In the second game, the Devils shut out the Lions for a 6-0 win and a series split. 
 The Devils would continue their success throughout their Florida road trip, finishing the stand 8-2.  
On Sun., Mar. 17, the Devils returned home to friendly territory to face Wells College Express. The game was a high-octane affair, with the final tally ending at 12-8 in favor of the Devils. The Express attempted a comeback in the eighth inning by scoring five runs, but it wasn't enough to steal the win and the Devils came out on top.  
After the game the Devils improved to 11-2 on the season. The Devils are set to travel to Cabrini this upcoming Fri., Mar. 22 where they hope to continue their successful start to non-conference play.
Conference play begins Sat., Mar. 30.