Softball Wins Both in Double Header against Ursinus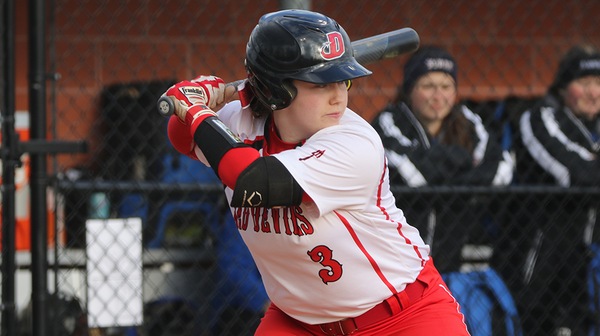 Sarah Manderbach '22, Sports Writer 
April 3, 2019
Hang on for a minute...we're trying to find some more stories you might like.
The Dickinson girls' softball team faced off in a double header Saturday, March 30, against Ursinus at Dickinson Park. Both games were wins for the girls, the first with a score of 5-3, and the second 2-1. 
The first of the two games had the first run scored by the Red Devils with a single from Marissa Fabio '21. She advanced to second, bringing in two of her teammates. The score was 2-0 in favor of the Red Devils at the bottom of the second.  
Ursinus had yet to score by the top of the fourth, leaving room for the Red Devils to score. Brigitte Gutpelet '21 walked with bases loaded, giving her an RBI that brought the score to 3-0. Julie Siecinski '21 singled to shortstop with bases still loaded, adding another run to the scoreboard for 4-0. 
The Bears finally earned three runs on the scoreboard in the top of the fifth and sixth innings, making it a close match by the bottom of the sixth with 4-3. The Devils fought back as Maggie McConney '21 hit a single to center field and Kat Parise '20 stole for home, ending the game with another win for the Devils at 5-3. 
The second game of the double header was at a stalemate for a majority of the first half. The first run of the game was scored by the Bears with a single to left center at the top of the fifth, bringing the score to 1-0. The Red Devils managed to hold their defense and keep the score there. At the bottom of the fifth, Siecinski ripped a single to center field, bringing in two people on the bases.  
Both teams held their defense until the end of the game, making the score 2-1 and adding a second win to the girls' softball team record.