The NFL Had a Strong and Exciting Opening Weekend
Antonio Brown was traded to the Oakland Raiders from the Steelers and made his first weekend appearance on his new team.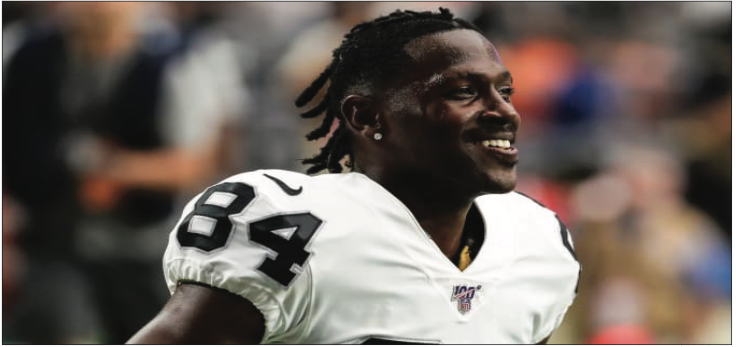 Jake Giotto '22, Associate Sports Editor
September 12, 2019
This past weekend marked the beginning of the 2019-2020 National Football League Season. The first week brought excitement for many different viewers. The season was kicked off with one of the oldest rivalries in all of sports: The Green Bay Packers vs. the Chicago Bears. The matchup brought Aaron Rodgers into soldier field to face Khalil Mack and the highly praised Bears defense. Packers fans were eager to see the quality of their quarterback following the worst season of his career last year recording a 56.4 Quarterback Rating (QBR), ranking him 16th among other quarterbacks in the NFL. Rodgers and the Packers were able to pull out the win in a game that was dominated on the defensive side of the ball by a score of 10-3. 
The Sunday Night prime time game brought The Pittsburgh Steelers to Foxborough to meet the reigning Super Bowl Champs. Tom Brady showed that he is still drinking from the fountain of youth throwing for 341 yards and 3 touchdowns. The Steelers also witnessed the Patriots Super Bowl LIII banner raising ceremony on Sunday. This was the third time since 1980 that the Steelers have witnessed a Patriots banner raising ceremony, which is one more than the Steelers have celebrated for themselves. The Patriots dominated the matchup defeating the Steelers 33-3. Perhaps the biggest story of the night was what had happened off the field a day prior. 
Superstar wide receiver, Antonio Brown, was traded to the Oakland Raiders this off-season from the Pittsburgh Steelers for a 3rd and a 5th round draft pick. The Steelers dealt the 31-year-old to the Raiders following several accounts of Brown getting into arguments with management and teammates. The drama did not end in Pittsburgh. Brown filed several grievances against the NFL due to the restrictions of him using his previously worn helmet of the past 10 seasons. The helmet he had been wearing was out of date and did not pass regulations that were set in place by the NFL and the Players Association. With Brown refusing to use a newer model of helmet, his drama clouded the Raiders off-season with eager hearts for the season to begin.