Volleyball Tops Alvernia
The Red Devils had an incredibly strong showing in their rst game at home, where they topped Alvernia University 3-1.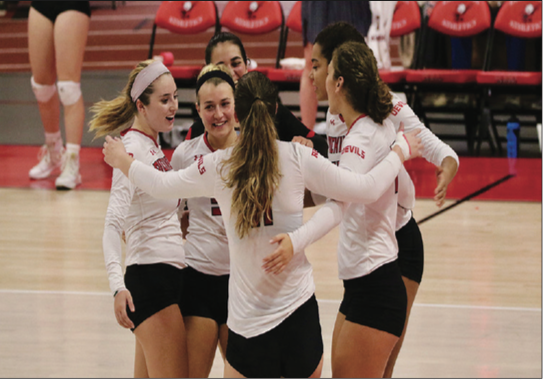 The Dickinson College women's volleyball team had an incredibly successful weekend with a 3-1 weekend against Alvernia University on Saturday, Sept. 7. The game marked the home opener for the women. The stands were packed with parents and students that came to support the team and the Red Devils were ready to go. After many long practices and hard work, it was time to bring it to the court at home. 
 The opening of the new Sideline Sports Stop brought raffles with free raffle tickets to all spectators increasing the size of the crowd. Every person who entered the Kline was greeted with a raffle ticket before they went up the stairs. 
The first set was a solid start for the Red Devils. Alvernia was the first to put points on the board, but not without a consistent answer from Dickinson who went on to take a 25-12 victory in the first set. Motivated and excited from the first set the women tried to carry the momentum from the first into the second. Unfortunately, Alvernia took the victory in the second set 22-25, but this did not get the Red Devils down. Instead they took it as an opportunity to show their strength and team work on the court. The women of Dickinson went on to win the next two sets 25-14 and 25-17. The crowd was loud and involved for every set from start to finish adding extra excitement to the women for their victories.  
Each of the women on the Red Devils team could not have won any of the sets without the help of each other. The teamwork on the court was incredible. Kristin Allgaier '21 put up the highest numbers of the game with 32 assists, 15 digs, and 3 blocks. Emma Lange '22 had nine kills followed closely behind by Jenna Schumann '22 and Hannah Riley '22 who put up eight each. Dickinson had a total of 6 aces as a team topping the numbers that Alvernia put up.  
The win in the home opener gave the women a 4-1 winning record. The Red Devils will aim to continue the teamwork and excitement from this game into the rest of the season.  
We wish the women luck as they travel to Stevenson University Friday, Sept. 13. The women, who have had a long preseason as well as time training up to this point, are ready to bring what they have to the court at home and away. The season is looking good for the Red Devils and there is full faith in their talent and ability.