Women's Soccer has a Busy Week of Success
The Dickinson College women's soccer team faced a long week of games against Penn. St. - Berks, Virginia Wesleyan, and #4 ranked Christopher Newport.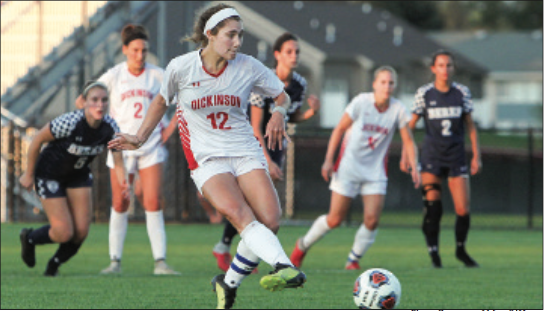 A tough week of games was in store for the Dickinson College women's soccer team. They had three games over the course of six days The first game, Tuesday, Sept. 3 against Penn. St. -Berks resulted in a 1-0 for Dickinson. Sat., Sept. 7 resulted in a 1-1 finish against Virginia Wesleyan, as well as the game Sunday, Sept. 8, which finished with the same result against Christopher Newport University.  
The week started with a home game. The Red Devils put themselves on the board in the first half with the help of Addy Zandi '20 who got a penalty kick in the firs 15 minutes. Rachel Lazris '20 took advantage of the opportunity and put the ball in the net scoring the first and only goal of the game. The women played strong throughout holding Penn State Berks to 0 goals. Carli Boyer '22, played her first game in goal, starting her college career in the net and finished the game with her first shutout. Dickinson put up a total of 22 shots, 12 of them on goal, compared with Penn. St. – Berks 6 shots, with only 2 on goals. The Red Devils also had 12 corners, 11 more than their opponent finishing the game strong.  
With the excitement from Tuesdays win the women traveled to Christopher Newport University to start the weekend against Virginia Wesleyan. The Red Devils continued the trend of the first game and were the first ones to put a goal on the board. Just before half time, Ally Diez '21, put a header into the net to finish the half. The women played strong but were matched in the second half with a goal from Virginia Wesleyan. Dickinson had three shots with the one they took on goal going in. The teams matched in fouls and topped Virginia Wesleyan in corners. The game went into double overtime but finished with a 1-1 score, both teams being evenly matched and holding the other to one goal.  
The game on Sunday against Christopher Newport ended in a very similar way with a 1-1 overtime victory.