Volleyball Goes 2-1 on Weekend Tournament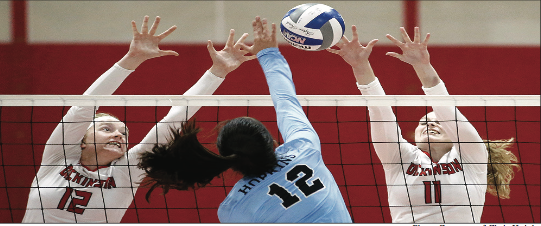 The Dickinson College volleyball team had a weekend full of games at the Stevenson University Mustang Quad Match beginning Friday Sept. 13 against Stevenson, then Saturday Sept. 14 against Salisbury and Gallaudet. The weekend included mostly success for the women. After an unfortunate 0-3 loss to Stevenson the women turned the weekend around and had a 3-0 win against Salisbury and a 3-1 win against Gallaudet. 
The first set was taken quickly by Stevenson who took off fast to a 25-10 victory. The Red Devils did not let this hold them back or discourage them and pulled closer in the second set with a 18-25 loss. The final game of the set was the closest and Stevenson only took it by three small points for a 25-22 with. Dickinson had a strong set of games with numbers that almost match Stevenson's, with seven blocks and five digs. 
The next day began with Salisbury and Dickinson taking to the court. Salisbury was previously undefeated, but the women of Dickinson were not intimidated. They came to the court ready to play and showed what the Red Devils are made of. The first set was close, but the Red Devils did not back down until the end for a 25-23 win. The next set had a larger gap in favor of the Red Devils where they reached a 25-16 win. The final set was successful as well with a 25-22 win. Even with close sets, the women of Dickinson showed their power as a team and pulled into the lead and held it every time. Emma Lange '22 had a very strong game with 14 kills and two blocks. Kristin Allgaier '21 had 29 assists alongside four digs, two kills and an ace. The women put up very good numbers for these games. 
The next game against Gallaudet went similarly. The first set seemed easy for the women where they posted a 25-12 victory. With the motivation to continue succeeding, the women of Dickinson put up a 25-19 victory in the second set. The third set proved a success for Gallaudet who won by two with a 23-25 victory. Dickinson did not let them run away with the game however and finished it off in the final set with a 25-19 victory to take the win. Lange again topped the board with 16 kills and four blocks. She was followed right behind by Morgan Biggs '22 who had 15 kills and 2 blocks of her own. 
This weekend of games brings the women to 6-3 on the season. We wish them luck as they travel to Swarthmore this upcoming Friday, Sept. 20 to face Swarthmore College and hopefully find continued success in this in conference game.