Football Falls to Johns Hopkins during Homecoming Weekend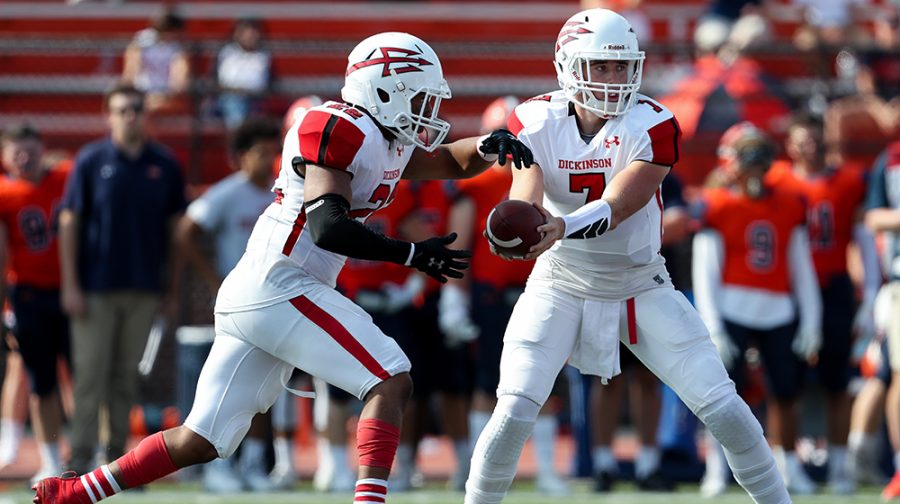 Last Saturday, Sept. 28, the Dickinson Red Devils football team hosted the Johns Hopkins Blue Jays during Parents' Weekend. The weather was hot and humid, but that didn't stop the fans from showing up, filling the stands, and rooting for their home team. There were also many parents in attendance, some cheered from the bleachers, others tailgated, and still others ate under the food tents by the scoreboard. Erik Ney, father of Jordyn Ney '23, stated "The stadium isn't as big as Penn State, but there is a whole lot of energy here."
Dickinson began the game with solid momentum, electing to receive the kickoff amidst the roar of a packed crowd. After a punt on their first drive, Anthony Cicini '23 forced a Blue Jays fumble just as they had entered the red zone. On the ensuing drive the Devils were able to move the ball effectively, in part due to two 30 yard-receptions by Bryce Broadus '23 and Daniel Salamone '20 on the drive. However, they were unable to convert on third down at the Blue Jays' 22 yard-line, forcing a field goal attempt. The field goal attempt was no good, temporarily shutting down the enthusiasm of the fans in attendance.  
The Blue Jays scored on back to back possessions to start the second quarter, opening their lead to 10-0. Just as it seemed the Blue Jays had sucked the momentum from Dickinson, the Devils answered with a touchdown on their next drive, with the score improving to 10-6 after a blocked PAT. The Blue Jays would score two more times in the quarter to improve their lead to  
23-6 before halftime. Johns Hopkins would score another touchdown in the third quarter, but a Dickinson safety limited the damage, with score standing at 30-8 heading into the final quarter.  
The Devils put up a good fight in the fourth quarter, with their first drive making it 73 yards all the way to the end zone, with Robert Geiss '21 contributing 60 of those yards rushing. The Devils would hold the Blue Jays to just one more score in the ninth, but the deficit was too much overcome, resulting in a 37-15 loss. The Devils dropped to 2-2 with no wins at home so far this season. However, the game was much tighter than the final score would show, with multiple opportunities in the game for both sides to prevail.  
While the Devils may have lost, students and parents alike enjoyed the game. Mason McIntyre '22 said, "I don't usually go to the football games. It's Parents' Weekend, so this is always my one game of the year." The festivities and energy at the stadium also brought out many who don't usually come to the team's games.