Field Hockey Beats Ursinus for First Time in 18 Years
The Dickinson College field hockey team had an impressive comeback to win 3-2.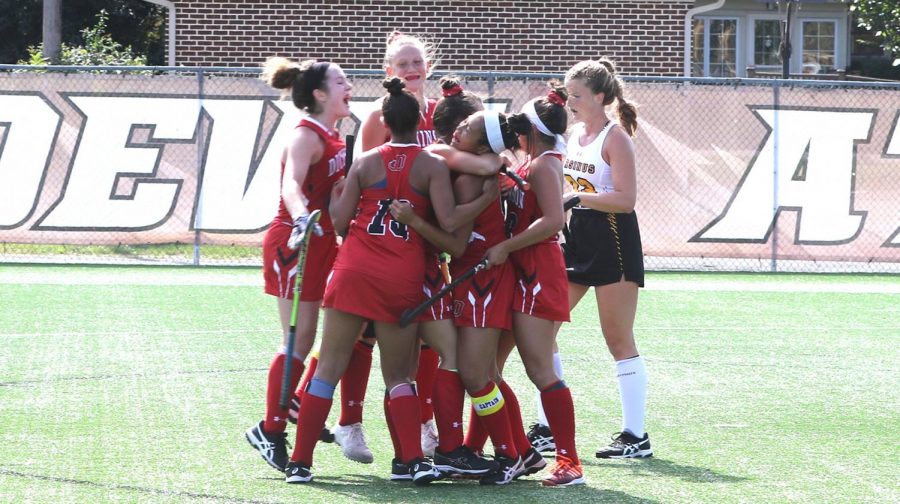 Sammi Werner '21, Sports Editor
October 10, 2019
This past Saturday, Oct. 5, the Dickinson College field hockey team had an incredible game against #9 ranked Ursinus.
 The Red Devils came out with a 3-2 victory in the end. Beating the Ursinus Bears is a huge accomplishment for the women of Dickinson. In the past 19 match ups between Ursinus and Dickinson, ever since the team moved into the Centennial Conference in 2002, Ursinus has found victory.
The bears had a strong start scoring 2 goals within the first minutes of the game, Being down by two motivated the Red Devils rather than bringing them down and they came back to score two of their own in the second quarter. Jillian Beemon '20, a defender, was able to find the cage with her first goal of her college career. Mia Scott '20 also put in the cage her first of the season of a well-placed assist from Amanda Fruman '22. The score was 2-2 at the end of the half.  
Going into the second half, the women of Dickinson wanted to continue their push to the win and did just this. Elsie Harrington '23 put two shots on goal, the first deflected but the second went in for her first of her college career ahead. This goal was to be the final scored of the game, despite strong attempts from both teams, and led to a final 3-2 score.  
The Red Devils dominated the field not only in goals, but also in shots taken on goal as well with 13 compared to the 8 from the Bears.  
This win brings the Red Devils overall record to 5-5 on the season and 2-2 in the Centennial Conference.