Football Faces Tough Loss to Susquehanna
The Dickinson College football team fell to Susquehanna in a 17-24 loss.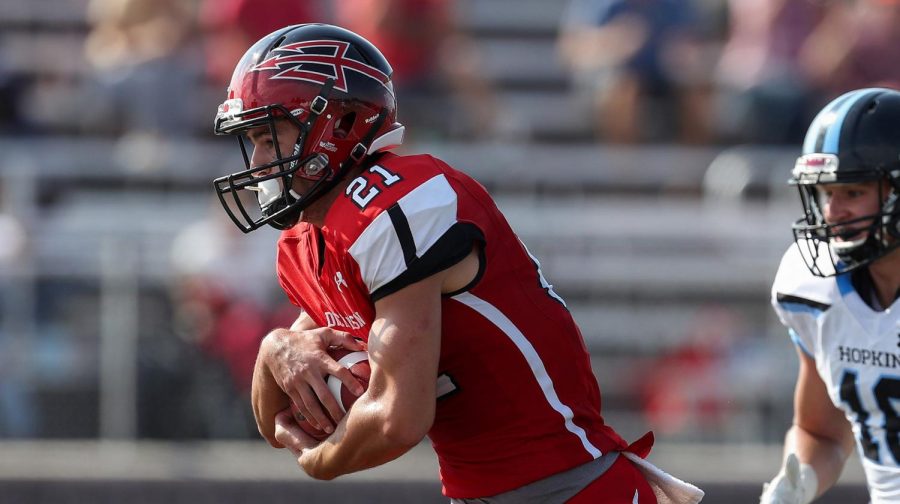 Shane Shuma '22, Sports Writer
October 10, 2019
Last Saturday, Oct. 5, the Dickinson Red Devils football team traveled to Selinsgrove, Pa, to face the Susquehanna University River Hawks where they unfortunately lost 17-24. 
 Susquehanna won the coin toss to start the game and elected to defer and receive the ball in the second half. The Devils were able to make it to the opposing 44-yard line, but the drive stalled after a sack on third down forced a punt. Early into their first drive it appeared that Susquehanna had scored a touchdown after a 21-yard reception, but a holding penalty negated the score. The Devils' defense held firm, and three plays later the Red Hawks brought out the field goal unit. They successfully made the kick to take the lead 3-0.  
The Devils started off their next drive with tough field position at the 8-yard line. After a series of successful rushes and clutch passes the offense made it to the Red Hawks' 33-yard line. Quarterback Robert Geiss '21 finished the drive from there, passing to Wide Receiver Daniel Salamone '20 for the touchdown. A successful extra point brought the score to 7-3.  
On Susquehanna' ensuing drive at the start of the Second Quarter Dickinson forced a three-and out, setting up excellent field position at the 43-yard line after the punt. Most plays on the drive were for short yardage, but the Devils were able to advance down the field with the help of the running game and a Susquehanna penalty. Their drive stalled out, but another field goal padded the lead to 10-3.  
However, the lead did not hold for long as the Red Hawks answered with a three-play touchdown drive to tie the game at 10.  
After exchanging punts Dickinson began their drive at their 42-yard line. After a rush for no-gain, Quarterback Tim Graham '21 was intercepted for a pick-six, putting them at a deficit of 17-10 after the successful extra point.  
Neither team scored again until after halftime. In the third quarter Dickinson scored a tying touchdown with six minutes left to tie the game at 17. In the fourth quarter only one team scored, but unfortunately it was the River Hawks with a game-winning field goal to bring the score to 24-17.  
After the game, the Devils fell to 2-3 overall. Next Saturday, Oct. 12, the Dickinson Red Devils will host McDaniel.