Football Tops Franklin & Marshall to Win Wagon
The Dickinson College football team had a strong overtime win to secure the wagon for the first time since 2015.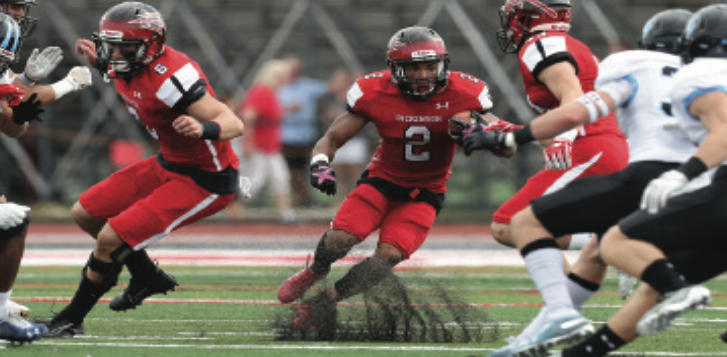 Shane Shuma '22, Sports Writer
October 31, 2019
Last Saturday, Oct. 26, the Dickinson Red Devils faced the Franklin & Marshall Diplomats on the road in Lancaster for the annual Conestoga Wagon Game. The game started with the Diplomats winning the coin toss and deferring the first possession to the Devils. On their first drive the offense was able to maneuver down the field but were unable to convert a 42-yard field goal after the drive stalled on fourth down. The defenses battled fiercely in the first half with neither side giving up a point. Franklin & Marshall came close to scoring in the beginning of the second quarter on a field goal, but their kicker missed the 32-yard attempt. Franklin & Marshall's first drive of the second half ended in a punt, setting up the Devils at the 23-yard line. The offense was able to advance to the Diplomats' 28-yard line, but a rush for no gain and three straight incompletions led to a turnover on downs. On the very next play Anthony Cicini '21 forced a fumble, setting up the Devils at the Diplomats' 16-yard line. The offense was unable to get a first down, but a field goal by Trystin Golowski '20 gave them their first lead of the day at 3-0. The diplomats got a field goal in the fourth quarter to tie the game, sending it into overtime.  
The overtime was explosive. Dickinson won the coin toss and deferred to the Diplomats. In NCAA football, the offense starts their first drive at the opposing twenty-five-yard line. The Diplomats scored a touchdown on their first play of the drive, forcing the Devils to answer to remain in the game. And answer they did, Quarterback Tim Graham '21 passed to Daniel Salamone '20 for a twenty-five-yard touchdown on their first drive of the game to tie at 10-10.  
The Devils got another possession and scored a touchdown after three rush plays by running back Philip Butler. The Diplomats had an opportunity to answer, but a sack and fumble recovery by Griffin Lundquist '22 on 4th and 10 secured the Devils' 17-10 victory.