Forever a Champion: Tiger Woods
Woods reacting to birding the final hole in the tournament to finish 19 under par.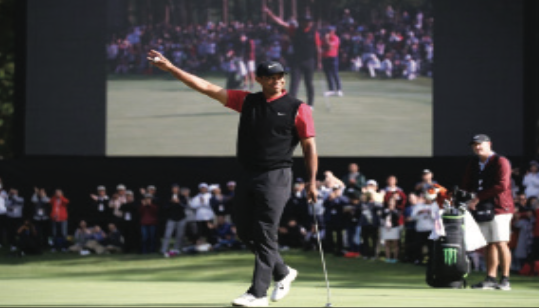 Drew Stern '22, Sports Writer
October 31, 2019
Hang on for a minute...we're trying to find some more stories you might like.
In the summer of 2017 Brandel Chamblee, one of the most reputed and prominent golf commentators the sport has ever known, was asked if he believed the then-injured Tiger Woods could compete on the PGA Tour again? "No," he replied. Tiger Woods has now won three of his last 14 starts, including the 2019 Masters and 2018 Tour Championship. 
The now 43-year-old Woods has just won his 82nd PGA Tour Event, tying the legendary Sam Snead at the top of the list. Win number 82 came this past weekend in Japan at the Zozo Championship, with Woods shooting in the 60's all four rounds on his way to a three shot victory over Japan's own Hideki Matsuyama, his second of 2019. The event was the first that the PGA has ever held in Japan, being played at Narashino Country Club in the countries' Kanto Region. Alluding to his Asian heritage from his mother Woods said, "it (82) is a big number, and it's ironic, but very special to do it here."
The third round of the tournament was suspended due to inclement weather, which led to the early Monday finish that aired Sunday night here in the U.S.  "I think it's the mind," said Woods when asked what the most difficult part of the week was for him. Tiger, well known for his mental toughness, said, "Delays are tough to manage because it's easy to zone out, you need to be 100% in on every shot," following his victory.
Just a mere 8,425 days ago, a 20-year-old Tiger Woods won his first PGA Tournament in Las Vegas. Yesterday in his 359th event, wearing his Sunday red as always, he won for the 82nd time. To put that into perspective Phil Mickelson, who is six years older than Woods, ranks second among active golfers for all time PGA wins, with 44. Numerous players from the tournament lauded Tiger's performance, each making mention of the "improbability" of his remarkable comeback. Woods, who fell at one point to 1,999th in the World Golf Rankings in 2017, has climbed all the way back to the sixth spot (almost two thousand spots in two years).
Woods famously appeared on The Mike Douglas Show when he was just two years old, ripping a driver in front of celebrities Bob Hope and Jimmy Stewart, to their amazement. But another moment from Woods' youth comes, again, from his early childhood, he is captured on video saying, "I'm going to beat Jack Nicklaus." Four back surgeries, five knee surgeries, and off-course troubles all knocked him down – but here he is, still winning. Incredibly, this now 43 year-old man is still chasing the same dream that he did as a young boy. Throughout his journey, Tiger has experienced both every high and low that anyone could've possibly imagined. But as commentator Steve Sands who called Tiger's winning putt said, "make room on the mountain top," Tiger Woods – what an amazing champion that will look towards the future.