Men and Women's Swimming Compete Against Ursinus in Season Opener
Both the men and women's swim teams fell to Ursinus.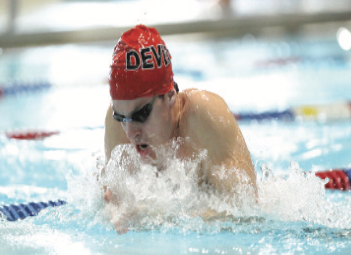 Sammi Werner '21, Sports Editor
October 31, 2019
The Dickinson College men and women's swim team began their season this past Saturday, Oct. 26. Both teams traveled to Ursinus for their first in conference meet. Unfortunately, there were losses suffered on both sides, with an 84-117 defeat for the men and a  defeat for the women. 
Even though the men lost, they put up a good fight until the end. To begin the meet in the 400 medley relay, the Red Devils placed second with Graham Novitch '20, Will Freeman '20, John Crafa '20 and Cameron McConagha '22. Logan Cort '22 placed second as well in the 1000 free. The men had three strong first place finishes for the day. To start off Freeman posted a top time in the 200 yard individual medley. This was followed by Tyler Catania '21 who finished first in the 200 yard butterfly in the next event. Shortly thereafter, Freeman came back in the 200 breaststroke to post another top time and win the event. Although the men lost, they had an impressive showing for their first meet of the season and will look