Men's Soccer Tops Haverford
The Dickinson College men's soccer team hosted senior day at home against Haverford where they found a 2-1 win.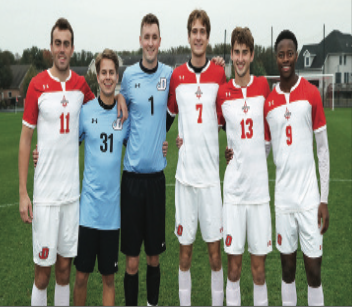 Sammi Werner '21, Sports Editor
October 31, 2019
The Dickinson College men's soccer team had a strong centennial conference showing against Haverford this past Saturday, Oct. 26 for a 2-1 win.  
In one of the final games of regular season play, the Red Devils were set and ready to take on the competition and put their best foot forward. They came out strong in the first minutes of the game putting a goal in just two minutes past the start. Brendan McGovern '20 was the one to hit the goal off an assist from Tayler Eynon '22. This brought excitement into the entirety of the team and they pushed forward to keep their lead.  
About 10 minutes later, Haverford answered with a goal of their own. Bringing the score to 1-1 going into the half.  
Coming in to the second half, the Red Devils put a goal another goal on the board. The Red Devils drew a free kick in the middle of the field. Mohamed Kourouma '21 used this to his advantage and put the ball in the net. Haverford tried to answer back but was unfortunately unable to before the end of the game, leading to the Red Devils win.  
Goaltender Frederick Meagher '20 had a strong game making a total of 7 saves for Dickinson.