Volleyball Hosts Senior Day against Haverford, Misericordia
The Dickinson College volleyball team falls to Haverford, tops Misericordia.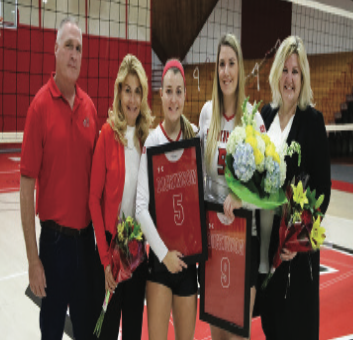 Sammi Werner '21, Sports Editor
October 31, 2019
On Saturday, Oct. 26 Senior Day was scheduled with a double header for the volleyball team against Haverford and Misericordia. The women split the day, falling to Haverford 3-1 and beating Misericordia 3-0. Two Seniors, Jacqueline Banker '20 and Alex Berezan '20 were honored.  
To start the day, Haverford took the court. Dickinson came out strong with a 25-19 win in the first set. Haverford came back stronger than they started in the second game and beat the Red Devils 19-25 to bring the set score to 1-1. Going in to the third set both teams wanted to pull the score in their favor, however the Haverford Fords were the ones to do it with a 24-26 defeat. Heading into the final game, the women of Dickinson did everything they could to push the game into a fifth set, but they unfortunately lost 20-25. This brought them to an overall game loss of 1-3. 
The game was led by Emma Lange '22 and Hanna Riley '22 who each had 11 kills for the day. Lange also put up six digs, three aces, and three blocks.  
Determined to find victory in the next game, the Red Devils took strongly to the court to face Misericordia. The first and second set ended with the same 25-17 win. With a 2-0 lead in the game the women went forth to win 25-29 in the final set to sweep the game 3-0.  
Lange, Riley and Morgan Biggs '22 each reached nine kills in the game. Riley totaled three blocks and Lange put up two of her own. This night brought Berezan off the bench from an injury where she put up good numbers with five assists and two digs.  
This win brought the Red Devils to 15-8 overall and 4-4 in the Centennial Conference. We wish them luck as they are set to travel to Gettysburg this upcoming Saturday, Nov. 2 for their final in conference game of the season against Gettysburg. They will put there best foot forward to play a strong game and go out strong for the end of regular season play on the year.