Women's Soccer Moves to First in the Centennial Conference
The Dickinson College women's soccer team top Haverford in a 1-0 win.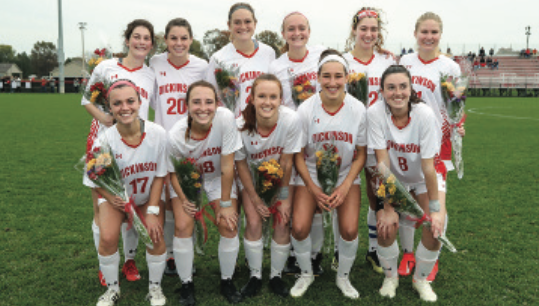 Sammi Werner'21, Sports Editor
October 31, 2019
This past Saturday, Oct. 26, the women's soccer team hosted senior day at home for one of their final games before conference play where 11 seniors were to be honored. The Red Devils won the game against visiting Haverford College in a 1-0 victory. This win brought the women of Dickinson in to the first-place position in the Centennial Conference.  
The first half started out slow. Both teams looked strong and were holding each other back from scoring. The first half ended with a 0-0 score, bringing excitement and motivation in to the second half. 
In the second half, the women of Dickinson stood strong and were able to put a goal in the net. Meg Tate '23 was the one to net the goal. This goal would be the one and only to happen in this particular game leading to success for the Red Devils.  
Dickinson led the way significantly in shots taken and shots taken on goal over Haverford, taking 14 shots with nine on goal, compared to Haverford's three and two. Haverford did hold the advantage in corners with six compared to Dickinson's four.  
The shutout by goaltender Carli Boyer '22 was her eighth of the season. This makes her fourth in program history for number of shut outs in a season.  
Dickinson is currently 11-1-4 overall and 6-0-2 in the Centennial Conference. We wish the women luck as they are set to travel for their final in conference came this upcoming Saturday, Nov. 2 against Gettysburg College. After the completion of this game, the women will move into the first round of Centennial Conference play offs.  
The women have had a season of tough practices that require unmatched determination and grit, and the women have pushed through it all as they are also looking forward to conference play.