Football Falls to Ursinus in their Final Game of the Season
The Dickinson College men's football team fell 19-27.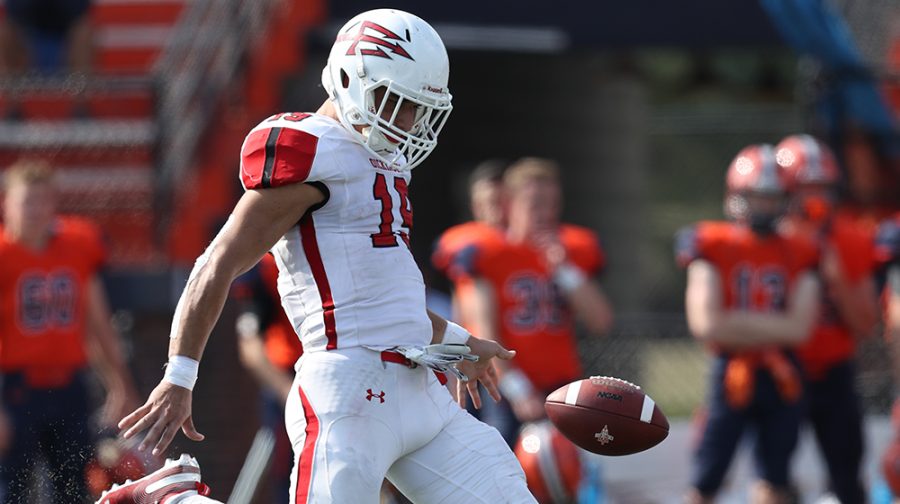 Shane Shuma '22, Sports Writer
November 21, 2019
Last Saturday, Nov. 16, the Dickinson College Red Devils hosted the Ursinus College Bears for their season finale. The game began with Dickinson receiving the ball for their opening drive. After marching to the Bears' 23 yard-line, quarterback Tim Graham '21 threw an interception to give possession to the other team. However, the Bears couldn't celebrate for long, as five plays into the drive and on a second consecutive sack their quarterback fumbled the ball. Brian Snow '21 recovered the fumble for the Devils. Dickinson's next drive started at the opposing 20 yard-line, but a three an out forced a successful field goal by kicker Trystin Golowski '20. Early into the second quarter Ursinus tied the game with their own successful field goal try, bring the score to 3-3. On the Devils' next drive, it only took four plays to get a touchdown, as quarterback Robert Geiss '21 connected with wide receiver Daniel Salamone '20 for a 65-yard pass. The team attempted to go for the 2-point conversion, but an unsuccessful try left the score at 9-3. Neither team would score again before halftime.  
The Bears struck first after halftime, scoring a touchdown and successfully tacking on the extra point to take the lead 10-9. Near the end of the third quarter the two teams exchanged field goals to bring the score to 13-12. The Bears would score two more touchdowns in the fourth quarter.